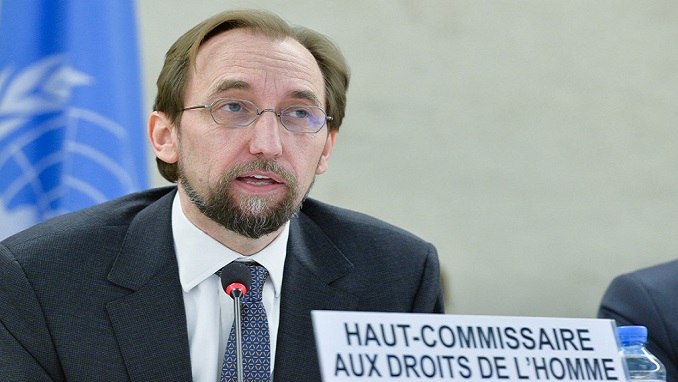 United Nations High Commissioner for Human Rights, Zaid Raad al-Hussein, said that the Iranian regime is one of the most alarming countries in the field of human rights. Hussein attended the Human Rights Council in Geneva on Tuesday, where he spoke about the harsh restrictions on freedom of opinion, expression, and arrest of human rights defenders, journalists and social network activists in Iran. The High Commissioner for Human Rights while speaking about the widespread abuse of prisoners said that even the judicial branch treats offenders in a very inhumane way.
"Iran has the highest number of death sentences in the world, many of them in relation to narcotics, but committing such crimes in the world is not recognized as deserving death sentences," he stated.
"Iran continues to severely restrict freedom of opinion and expression. My Office has received numerous reports of human rights defenders, journalists and social media activists being arrested and detained. Ill-treatment of prisoners is widespread, and in addition, the judiciary continues to sentence people to cruel, inhuman and degrading treatment, including amputation of limbs and blinding. Iran also remains the country with the highest reported rate of executions per capita," the High Commissioner for Human Rights said in his speech.
Human rights violations in Iran are increased in recent years, which is condemned by many international organizations and human rights activists. The high number of executions, the suppression of religious and ethnic minorities, the violation of freedom of expression and the imprisonment of dissidents and civil activists, are among the behavior of the regime that has been condemned.
Part of the U.S. sanctions against the Iranian regime is introduced due to human rights violations. The U.S. State Department conveyed to Congress last May a report on sanctions against the regime officials responsible for human rights abuses.
Amnesty International has also published a detailed report describing the numerous abuses and imprisonment of human rights defenders in Iran and stated that the Iranian judiciary and security apparatus treat human rights defenders as criminals and opponents of the regime.