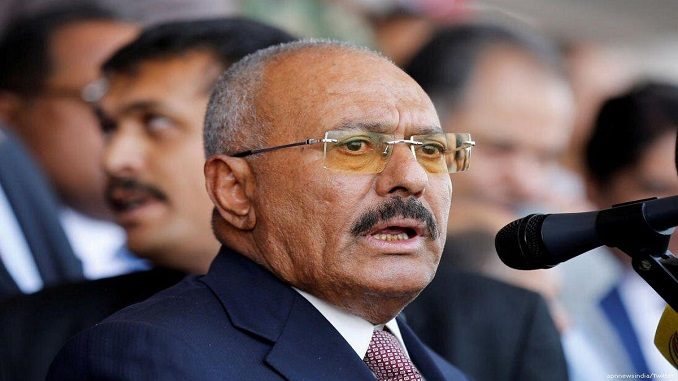 Ousted Yemeni President Ali Abdullah Saleh has asked Iran and the Lebanese Hezbollah group to help contain his dispute with Shia Houthi rebels, source told Middle East Monitor. There was no immediate comment from Iran or Hezbollah about the report.
Earlier on Saturday, Saleh's forces, in cooperation with a number of tribes, expelled Houthi militias from the capital, Sana'a and tightened their control over a number of vital installations, triggering clashes between the two sides resulted in the death of nearly 140 people and injuring hundreds more.
Meanwhile, Houthi militias responded by arresting a number of Saleh supporters in the countryside surrounding Sana'a.  Saleh formed an alliance with Houthi rebels against forces loyal to the government of President Abd Rabbuh Mansur Hadi who is supported by the Saudi-led Arab alliance. However recently there have been tensions between the two sides.
Earlier today, the Houthis took control of the homes and properties of Saleh's sons and relatives in Sana'a.
"The security forces in Sana'a, backed by wide popular support, have cleared the places where treason and treachery [Saleh's] militias are based, from several military barracks in which they were stationed," the spokesman of the Houthis, Mohamed Abdel Salam, said in a statement.
Qatar tried to support the Houthi militants in their latest dispute with former Yemeni President Ali Abdullah Saleh, but the latter has rejected Doha's intervention and mediation. Informed sources told Asharq Al-Awsat that Qatar tried to slow down any Saleh action by proposing a mediation with the Houthis.  Sources close to the former president revealed to Asharq Al-Awsat that he rejected the suggestion.
Saleh had on Saturday announced that he was opening a new chapter with the Saudi-led Arab coalition to restore legitimacy in Yemen, thereby ending his alliance with the Houthis.  Member of Saleh's National People's Congress Dr. Adel Shujaa told Asharq Al-Awsat that the office of the Qatari Foreign Ministry had contacted Saleh's bureau to propose a mediation in order to ease the tensions with the Houthis. Saleh refused, however, to allow the Congress to fall into Qatar's hands.
Shujaa added that Doha has in the meantime contacted former Foreign Minister Abu Bakr al-Qarbi, saying it wanted to host him for talks on a possible mediation between the Congress and Houthis. Saleh had also rejected this suggested and this reply was relayed by Qarbi to Doha.
Shujaa explained that the Congress is aware that the Qataris are now seeking temporary allies due to the crisis Doha is experiencing with a number of countries.  Yemeni Foreign Ministry Undersecretary Dr. Mansour Bjash told Asharq Al-Awsat that Qatar abandoned the Arab coalition and it now has ties with Iran. It, therefore, is seeking a reconciliation that would form a policy that adheres to it and follows its agenda.