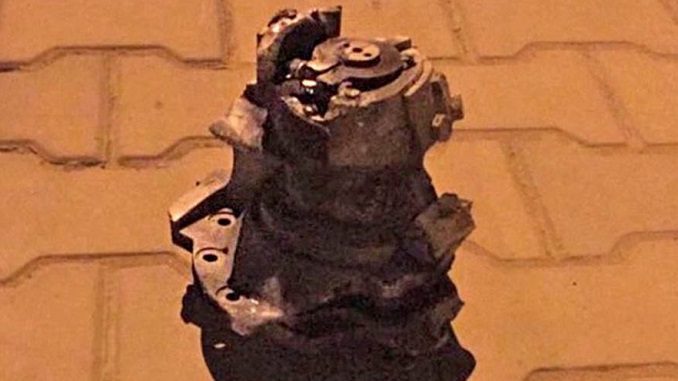 The Trump administration is preparing a public display of what it says is evidence that Iran is providing missiles to Houthi rebels in Yemen, threatening a key U.S. ally in the region, according to four U.S. officials quoted by NBC News.
This week, the U.S. Ambassador to the UN, Nikki Haley, is set to unveil components of a short-range ballistic missile that Houthi rebels fired into Saudi Arabia at Defense Intelligence Agency headquarters at Joint Base Anacostia-Bolling in Washington, D.C. According to a senior intelligence official, she will also present other evidence of Iran's weapons proliferation and potential violations of UN sanctions, and of Iranian destabilization and threats to U.S. allies.
The ballistic missile was fired from Yemen on November 4, striking near King Khalid International Airport in Saudi's capital city of Riyadh. Saudi defense forces say they shot it down with a surface-to-air Patriot missile and turned it to shrapnel.
Foreign Policy on Friday claimed that an examination of key missile fragments, documented last month in a confidential UN report, supported U.S. claims that the missile was comprised of Iranian hardware. But the report, which was reviewed by Foreign Policy, provided a new twist: The weapon also included a component that was manufactured by an American company.
The White House sees the missile strike as an opportunity to rally international sentiment against Tehran, and to lessen Washington's diplomatic isolation, which has deepened with President Donald Trump's rejection of the landmark 2015 Iran nuclear deal negotiated by his predecessor, Barack Obama.
"The Iranian Islamic Revolutionary Guard Corps and its partners are arming, advising, and enabling the Houthis' violent actions, which accelerate the cycle of violence and human suffering, obstruct the flow of humanitarian aid, and disrupt efforts toward a political resolution," according to a statement released on Friday night by the White House press secretary.
In recent weeks, Nikki Haley has pressed the Pentagon and U.S. spy agencies to declassify intelligence linking Iran to the November 4 attack as well as other Iranian infractions, while U.S. national security officials have lobbied the UN. The U.S. goal, an official was quoted by Foreign Policy as saying, is to get UN Secretary-General Antonio Guterres to present the UN's strongest case to date of Iranian sanctions violations in a report due out next week.
In an unpublished report distributed to Security Council members on Friday, Guterres said the United Nations is "carefully reviewing" all the evidence related to Houthi missile attacks in Yemen, including the November 4 strike. He urged the Security Council committees responsible for enforcing Yemen sanctions and monitoring the Iran nuclear deal to receive a briefing on the UN's findings. But the investigation also produced a surprise.
The missile, painted blue with "Borkan 2-H" written in white paint, contained another component — a set of carbon fiber compressed air bottles that circulate liquid jet fuel in the missile — manufactured in the United States, according to the UN panel's report. The panel has reached out to the manufacturer, which was not named in its report, to find out how its technology found its way into a Houthi missile.
The question of how an American-made part found its way into the fabrication of the Houthi rebels' most advanced missile is a missing piece in an enduring puzzle UN investigators have been struggling to solve. There are a number of contingencies arising from the fact that the missile included U.S.-made parts. First, it could serve arguments by Iran and its allies, including Russia, that the weapon was not produced by Iran.
The report's findings appear to lend support to an analysis of a missile research team and published in the New York Times, which challenged claims made by President Trump, who said that a U.S. supplied Patriot missile defense system in Riyadh "knocked the missile out of the air." Photos show that the Borkhan's rocket motor and other components landed well short of their target, but that missile warhead landed perilously close to the airport.
The second possibility is that either Iran or the U.S. have tried implicating each other in the rockets case. This is however unlikely because in that case only parts made by one side would have been found in the debris.  The third, more likely possibility, is that the local Houthi forces have managed somehow to take different parts from different sources and make their own missiles.
"We hold Iran responsible for this. They're the ones that provided the missiles. … We believe this could be considered an act of war," said Saudi Foreign Minister Adel al-Jubeir five days after the attack.
An Iranian official said that Saudi claims of Iranian responsibility for the missile were "malicious, irresponsible, destructive and provocative." Arab media outlets have displayed a photo that they have described as an image of remnants of the missile. The Saudi mission to the UN told NBC News that the Saudi government did not provide the image to the media.