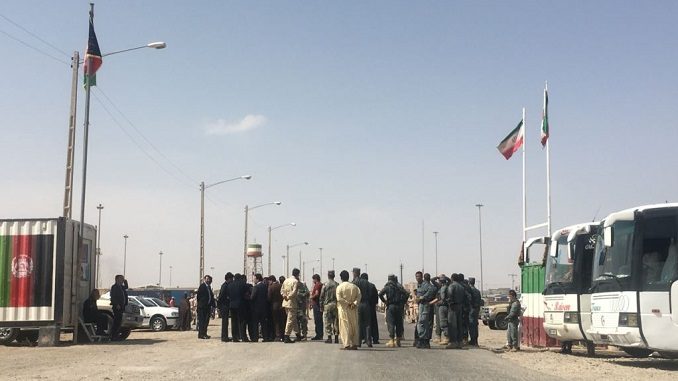 Afghan officials say the country's main intelligence agency has arrested a government employee in the western province of Herat for alleged spying for Iran, RFERL reports.
Jilani Farhad, the spokesman for Herat's governor, told RFE/RL on January 15 that the man, identified as Assadollah Reza'i, was detained more than 10 days ago by agents of the National Directorate of Security (NDS) and sent to Kabul for further investigation.
Reza'i had worked for nearly two years as a provincial expert on municipal affairs in Herat Province, which borders Iran, according to Farhad. A senior provincial government official said Reza'i had been under surveillance for several months.
Reza'i is said to be accused of transferring classified government documents to Iran's intelligence services. He had previously held top posts in Farah Province.
Back in November, another Afghan official, the deputy chief executive of Afghanistan Mohammad Mohaqeq, has come under fire at home after he praised the role of Iran and its regional proxies in the Syrian conflict. Mohaqeq, who is also a prominent Shi'ite politician from Afghanistan's Hazara ethnic minority, was among notable speakers at the event.
"I consider it necessary to deeply thank all combatants that participated in these battles, whether they were fighters from Iraq and Syria, the Iraqi and Syrian armies, Hashd al-Shaabi of Iraq, or fighters from Iran, Afghanistan, Pakistan and other parts of the world. Indeed, these battles were the battle of Islam against the infidel and plots by the Global Arrogance. And our dear brother Qassem Soleimani, the powerful general of Islam, and also the honorable Sayyed Hassan Nasrallah played a prominent role. I congratulate them and wish them more success," Mohaqeq told the audience.
But what particularly triggered angry reactions in Afghanistan was Mohaqeq's praise for Afghan Shi'ite militias, known as the Fatemiyoun Division, who are fighting in Syria under Soleimani's leadership. Over the past six years, Iran's Islamic Revolution Guards Corps has recruited, indoctrinated, trained and deployed thousands of Afghan Shi'ite to fight under its command against Sunni rebel groups across Syria. The Fatemiyoun Division has about 20,000 active fighters, according to accounts provided by Iranian officials.
The Kabul government distanced itself from Mohaqeq's remarks, whereas many politicians and media outlets said his support for Iran and the sectarian conflict in Syria is dangerous for Afghanistan's stability and sectarian harmony.
Mohaqeq's speech predictably triggered a great deal of concern and criticism in Kabul. A statement by the President Palace said Mohaqeq's remarks ran "counter to Afghanistan's laws and the country's foreign policy principles, national interest, peace, and stability." It added that the government is probing the case.
"The government emphasizes that Afghanistan has never participated in proxy wars and will not allow that this country turn into a proxy battlefield in the future."
Chief Executive Abdullah Abdullah echoed a similar view and stressed that the Afghan government opposes the participation of Afghans in any foreign wars. Several members of parliament, including Abdul Rauf Ibrahimi, the speaker of the Afghan Parliament's lower house, also reacted angrily. Aryan Youn, a lawmaker, accused Mohaqeq of "spying" for Iran and said his comments jeopardize Afghanistan's national security.