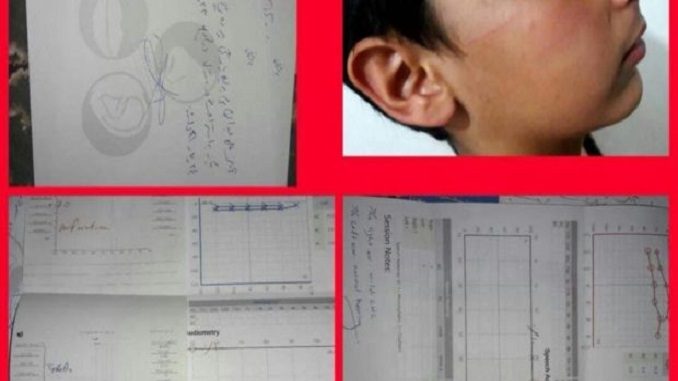 Ahwazi Arab Student's eardrums teared after school's moderator punished him by slapping, the Ahwazi Center for Human Rights reports.
"Two days ago, my 12-year-old son, when he asked his classmate to change his place at the school, he got punished by the school's moderator," Rahim Abdul Khani, the father of the student from Sus said.
"The school's moderator slapped my son without any notice while he was in the queue, and this action caused the led to tearing the eardrum of my son. Despite the damage to my child's ear and the blushing of his face, the school principal did not inform us about the subject," he continued.
Khani added that according to the certified physician and medical records available, the right eardrum of his son has been torn due to the slap. He criticized the behavior of the school headmaster with the students and informed that due to the damage done to his child, he filed a complaint to the judiciary and the inspection of the school education in Sus city and is being pursued.
Abdul Khani called for judicial follow-up and added that the school should be a safe place to educate students, not a place to punish them which is prohibited by law. Abdulamir Khanifar, director of education in Susa, said: "This issue has been raised this morning (Monday) through the student's family, which is under review. If confirmed, follow-up is necessary and will be dealt with by the school's moderator.
Physical punishment of students in addition to the negative psychological and physical consequences in accordance with the codified laws of the country, is considered illegal. In addition to this, Ahwazi Centre for Human Rights reports that the Iranian regime arrested four Ahwazi youth  and charged them with "participating in an attack on police station No. 22" in the Mujahid neighborhood. After months of torture in Shiban prison in the north of Al-Ahwaz, Ettela'at brought them to intelligence centre with the aim of executing them soon.
Hussein Silawi , one of the four prisoners, has eight bullet wounds. He is still not treated by the Iranian regime although his digestive tract is out of his stomach.
In March 2017, a film leaked on social media showing three masked men speaking Arabic with Fari dialect raising flag of Ahwaz and calling for freedom of Al-Ahwaz. Soon after, the Iranian intelligence service arrested and charged them with shooting on police station number 22.
The Ahwazi Centre's sources reported that Iranian regime Sepah (also known as The Islamic Revolutionary Guard Corps IRGC) agents participated in the attack on police station No. 22. Iranian regime is well known for its propaganda and faking news to arrest or execute Ahwazi activists.