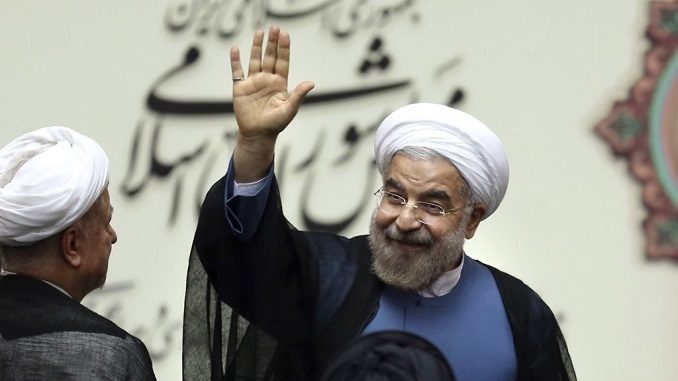 A member of President Hassan Rouhani's reelection campaign in Ilam province has been sentenced to five years in prison for "insulting the sacred," the head of Ilam's Justice Department announced on Sunday, October 22.
The judiciary affiliated news website, Mizan cited Mohammad Razm as saying that an individual from Rouhani's campaign in Ilam who had defamed Imam Reza, is sentenced to five years prison.  Razm did not name the accused individual but said he has protested the verdict and his case is currently being reviewed in a court of appeal, Radio Farda reports.
On Friday, April 28, in a satirical text read at the inaugural ceremony of Rouhani's campaign headquarters in Ilam, Ali Mohammad Mohammadi had remarked that Imam Reza is helping only the so-called Principleists (conservatives challenging Rouhani), totally ignoring the reformists.
The satirical text triggered a harsh reaction from several Shi'ites' sources of emulation, conservatives and the Islamic Revolution Guards Corps' commander in Ilam. The reactions were so intense that, according to Ilam's local media, the Prosecutor-General of the province issued a warrant for detaining Mohammadi.
Therefore, the convicted person is most probably Mohammadi, the chairman of the campaign. Reacting to the incident, the Supreme Leader Ayatollah Ali Khamenei's representative in Ilam, Mohammad Naqi Lotfi also declared one day of public mourning in the province.
Friday prayers leaders of other cities in the province also joined the chorus and called for the "defamers" to be confronted and punished. A Shi'ites' source of emulation based in city of Qom, Ayatollah Nasser Makarem Shirazi also bitterly criticized the satirical text read at Rouhani's campaign headquarters in Ilam and called for punishing the "evil" individual who had "ridiculed the highly eminent position of the imams. Rouhani's campaign headquarters has not yet reacted to the legal case against one of its members.