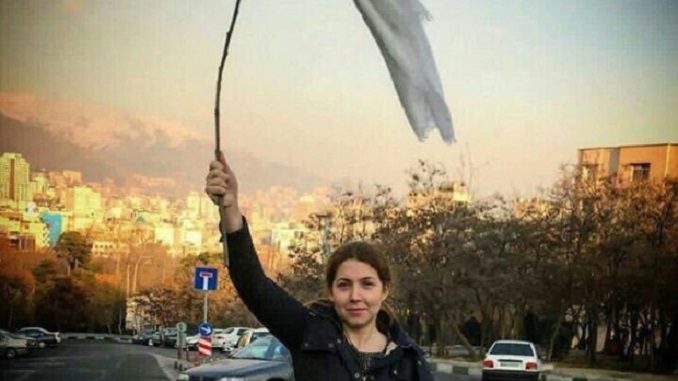 For weeks now, Iranian women have been engaging in small acts of defiance against the Islamic Republic's theocrats, removing their headscarves in the streets and hoisting them on sticks. Photos and videos of the brief demonstrations have been widely shared on social media and sites like MyStealthyFreedom. A number of women have been jailed, CBS reports.
Government efforts to stamp out the dissent seem to be having little effect, however. Reports indicate that the protests against headscarves — mandatory in public since the 1979 revolution — have spread to other cities like Shiraz, Esfahan and Rasht. Men are also joining in to show their support.
Earlier this week, a senior cleric even took the unusual step of openly criticizing the country's Supreme Leader, Ayatollah Ali Khamenei, for his failure to deal with public anger over the failing economy and abuses of power by hardline conservatives. Perhaps most troublingly for the authorities, it appears that a growing number of Iranian women are not afraid.
As per usual, Iranian authorities are blaming foreign elements for the demonstrations, saying illegal, U.S. and UK-based satellite channels have been "deceiving" women into participating.  Iranian President Hassan Rouhani hit a similar theme yesterday in a speech in the southern city of Sirjan, accusing Donald Trump and other American leaders of offering "fake sympathy" and support to the people of Iran when they encourage civil disobedience.
Iranians are all too familiar with "U.S. crimes," said the president, harkening back some 40 years to the arms and money that were given to the late Shah and his secret police, as well as recent economic sanctions.  This is all because Washington "favours insecurity" in the Middle East, charged Rouhani.
Chief prosecutor Mohammad Jafar Montazeri had played down the escalating protests on Wednesday, saying they were "trivial" and "childish" moves possibly incited by foreigners. Iran analyst Omid Memarian told Newsweek:
"Civil disobedience is costly and women might face arrest and jail time for removing their scarves in public, but women courageously show defiance, indicating that the new generation finds no benefit in staying silent. Women show their opposition to such forceful approaches by their very clothing, from resisting covering their hair to wearing long boots and leggings", she wrote in a series of tweets this week.
Meanwhile, U.S. Department of State today expressed concerns over the arrest of 29 women after they appeared in public without a headscarf as protests against the dress code enforced by the country's regime and said that Tehran's clampdown "undermines protesters' autonomy and dignity".
The White House condemnation Iran's handling of the nation-wide protests, which began in December last year, has been met with skepticism in Tehran which has accused the former of interfering in its internal matters.
"The United States supports the people of Iran who are protesting against women being forced to wear the hijab. The United States remains steadfast in our support for the rights to freedom of religion, freedom of expression, and peaceful assembly," U.S. States Department spokesperson Heather Nauert said in a tweet.