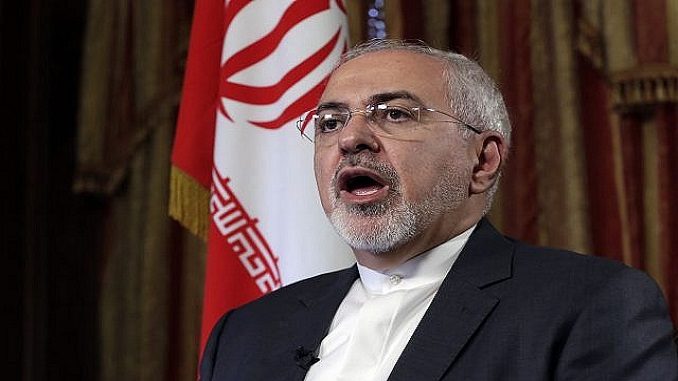 In a Twitter tirade against Saudi Arabia, Zarif points to the recent visit to Riyadh by Trump son-in-law, accuses kingdom of 'regional bullying, destabilizing behavior,' Times of Israel reports.
Iran's foreign minister hinted Monday that U.S. President Donald Trump's senior adviser and son-in-law Jared Kushner was responsible for the surprise resignation of Lebanon's prime minister over the weekend, a move that further fueled the regional rivalry between Tehran and Riyadh.
Saad Hariri unexpectedly announced his resignation on Saturday while visiting Riyadh, where he accused Saudi nemesis Iran and its Lebanese proxy Hezbollah of having a "grip" on Lebanon. He also said he feared for his life.
Iran has said the U.S. and Saudi Arabia were responsible for Hariri's resignation, saying the move was meant to sow tension in Lebanon and the Middle East.
"Visits by Kushner & Lebanese PM led to [Saad] Hariri's bizarre resignation while abroad. Of course, Iran is accused of interference," Mohammad Javad Zarif tweeted.
Kushner visited Saudi Arabia in October as part of a four-day trip to the region that also included stops in Israel, Jordan, and Egypt, Politico reported last week. Hariri traveled to the kingdom twice last week, announcing his resignation on the latter trip. Zarif did not say how Kushner allegedly helped orchestrate Hariri's decision to step down. On Sunday, Hassan Nasrallah, the head of the Hezbollah terror group, said the resignation was "imposed" by Saudi Arabia.
Hariri's resignation has added fuel to an already simmering regional rivalry between Iran and Saudi Arabia. On Monday, the Saudi-led coalition fighting in Yemen threatened retaliation against Iran over an unsuccessful missile attack on Riyadh carried out by Iran-backed rebels.
Addressing Saudi Arabia's intervention in the Yemeni civil war, Zarif accused the kingdom of bombing Yemen "to smithereens, killing 1000's of innocents including babies." He also said Saudi Arabia "spreads cholera and famine" in its southern neighbor.
The Iranian foreign minister also accused Saudi Arabia of "regional bullying" and destabilizing the Middle East, while trying to pin the blame on Iran.
"KSA is engaged in wars of aggression, regional bullying, destabilizing behavior & risky provocations. It blames Iran for the consequences," he said.
Separately, Zarif blamed U.S. President Trump's visit to the kingdom in May for leading to regional crises.
"Visits to the belligerent #KSA have proved hazardous to regional health. Trump visit led to Bahrain repression followed by Qatar debacle," tweeted Zarif.
Riyadh is a top backer of Sunni-ruled Bahrain, whose Shi'ite minority has received support from Tehran. Along with the United Arab Emirates, Bahrain, and Egypt, Saudi Arabia cut ties with Qatar in June, in part due to its Gulf neighbor's ties with Iran.