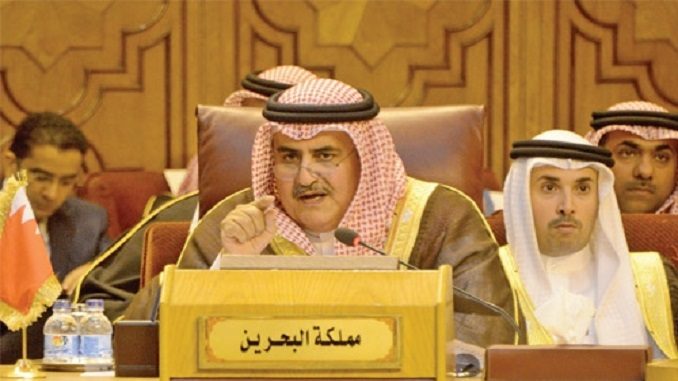 Iran poses a serious threat to the region, Minister of Foreign Affairs Shaikh Khalid bin Ahmed bin Mohammed Al Khalifa told Arab League's extraordinary session yesterday, pointing out that the missile that targeted Riyadh was not the first attack on Saudi Arabia by parties operating in favour of Iran in the region such as the Houthis, News of Bahrain reports.
The meeting at the headquarters of the Arab League in Cairo was held to discuss ways to address Iranian interference in the internal affairs of Arab states. The Foreign Minister added that the bombing of an oil pipeline in the Kingdom of Bahrain was not the first attack, but comes as part of a series of long attacks that cost the Kingdom of Bahrain thousands security men and citizens, and all those crimes were perpetrated by Iranian agents in the region.
Shaikh Khalid warned that there is a serious escalation of Iranian practices in the region, which puts everyone in front of a great responsibility, which is the responsibility of maintaining Arab national security through the only mechanism, the mechanism of joint Arab action. He added that Iran's biggest arm in the region is Hezbollah's terrorist wing, which is located in the Lebanese Republic, the Republic of Iraq and the Syrian Arab Republic among other places.
"Iran is the great challenge to the Arab national security, which is exposed to a state that is trying to clearly overthrow and control countries, and does not hesitate to take any action to reach this goal," Shaikh Khalid said.
He pointed out that everyone bears responsibility, and that the Lebanese Republic, which is a brotherly Arab country that is loved and appreciated, is under full control of the terrorist Hezbollah, which is not only targeting acts within the borders of Lebanon, but crosses the borders to all Arab states.
"We must be clear in this regard, we do not talk about Arab differences, we talk about threats to us all, and if we do not take this issue seriously, we will be deficient," Shaikh Khalid  said.
The Foreign Affairs Minister expressed hope that joint Arab action will be more effective in establishing security and stability in the region and in maintaining Arab national security. He mentioned in particular Iran's recent missile that was aimed at the capital of Saudi Arabia, Riyadh. The ballistic missile was thankfully intercepted in time, avoiding many casualties and fatalities. He pointed out that this is not the first time that Saudi Arabia has been the target of attacks carried out by Iran's proxy groups and militias. Shaikh Khalid said that Iran has been behind these attacks via the use of agents that are spread out in every corner of the Middle East.
He added that Iran's belligerence is getting worse and worse, making it a problem that is the responsibility of everyone to deal with. He said that it was essential for Arab national security to be guaranteed via joint Arab action. Shaikh Khalid spoke in great detail about how Iran is creating chaos in the region. He said that Iran is involved in extensive smuggling operations.
"Iran is not only fighting directly from its coasts, where it is conducting smuggling operations and many other activities, but it has many arms in the region."
Hezbollah is Iran's main arm in the region and it is operating on a regional and international scale. The terrorist wing of the group is located in the Republic of Lebanon, the Syrian Arab Republic and the Republic of Iraq, to name just a few places.  Shaikh Khalid said that the Islamic Republic of Iran is a "great challenge" to the security of all the Arab countries. He said:
"[The Arab countries are] exposed to a state that is trying to clearly overthrow and control countries, and does not hesitate to take any action to reach this goal."