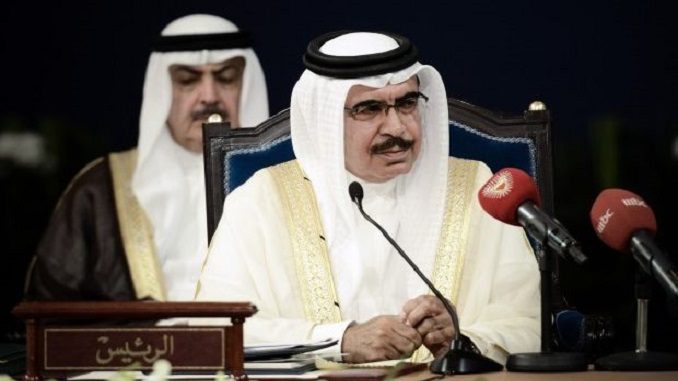 Bahrain's interior minister Lieutenant General Sheikh Rashid bin Abdullah al-Khalifa accused Iran of harboring 160 Bahrainis convicted of terrorism and stripped of their citizenship, in an interview published Wednesday.
All 160 "fugitives" had been stripped of citizenship in "terrorism cases" targeting Bahraini police and security forces, told the Arabic-language daily Asharq al-Awsat.
He accused Iran's elite Revolutionary Guards of having trained the group, who were convicted of attacks that killed 25 security personnel and wounded 3,000 others, according to Asharq al-Awsat.
Khalifa said that the strategy of U.S. President Donald Trump against Iran helped in limiting the indulgent policies used by Iran to interfere in the internal affairs of other states and to export its terrorist activities through the Revolutionary Guards and Hezbollah.
The Bahraini minister praised the U.S. strategy and said that in general, it undoubtedly restored international peace and security and in specific, it protected the regional security of Arab Gulf states. He also lauded the announcement of U.S. Secretary of Defense James Mattis that Washington would surely dissuade Iran from shipping explosives to Bahrain.
According to Khalifa, there is evidence that Iran has shipped 24 kilograms of explosive materials to Bahrain and it logistically and financially supported terrorist members to carry out terrorist acts against Bahrain and its people.
He said there is a direct relationship between Iran's Revolutionary Guards and terrorist activities in Bahrain.
"Bahrain faced the threat of terrorism and was able to foil many terrorist acts. Physical evidence and strategic information proved the involvement of Iran's Revolutionary Guards in training terrorist members in Iranian camps on the use of explosives and automatic rifles and contributing to the smuggling of those weapons to Bahrain. They also provided support and funds and trained, formed and recruited terrorist groups targeting the security of Bahrain and Saudi Arabia, including the so-called terrorist organization Saraya al-Ashtar," Khalifa said.
He added that some arrested suspects have already admitted into being trained on the use of weapons in the military camps run by the Revolutionary Guards and that their ages range between 20 and 40.
Bahrain, a Shi'ite-majority kingdom ruled by a Sunni dynasty, has seen sporadic violence since the repression in 2011 of a protest movement demanding a constitutional monarchy and an elected prime minister.
The kingdom, a key U.S. ally located across the water from Iran, regularly accuses Shi'ite Iran of meddling in its internal affairs, an allegation Tehran denies.
"Iran has released 254 "hostile" statements against Bahrain since 2011," Khalifa said.
Bahrain has repeatedly warned of the seriousness of Iran's blatant interference in the internal security of the kingdom and the region through supporting extremist and sectarian cells and organizations.
"Iran's dangerous interference focuses on the export of intellectual and sectarian extremism, which calls for intensifying regional and international efforts to address all areas of terrorism, particularly combating Iran's funding of extremist militias and supplying them with weapons."
Bahrain accused Tehran of funding militant cells in the kingdom and of stoking the 2011 anti-government protests, which were led by the kingdom's Shi'ite majority. Demonstrations began in February and were suppressed in March by security forces. Saudi troops and Emirati police were called in to help provide security.
In March, Bahrain said it uncovered a 54-member Iranian-linked militant group suspected of involvement in attacks on security forces, including organizing a prison break in January.
Chief prosecutor Ahmed al-Hammadi said security forces arrested 25 members and seized 11 pistols and Kalashnikov rifles in a series of operations, including an attempted arms smuggling in December. He also said an investigation into the January prison break revealed that a Germany-based leader of the group had helped organize trips for members from Bahrain to Iran and Iraq for training.