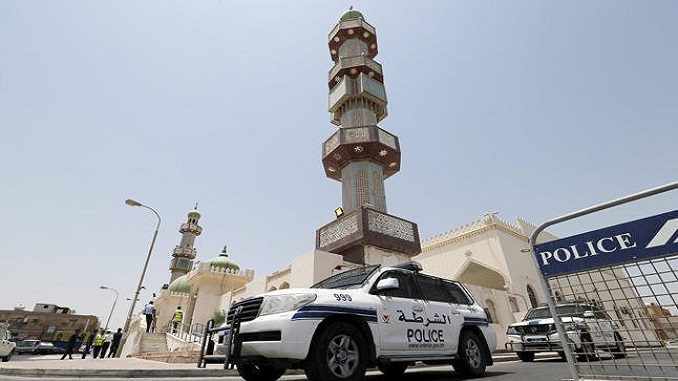 A Bahraini court on Monday sentenced 19 people to lengthy jail terms on charges of spying for Iran and plotting to overthrow the regime, judicial sources said as quoted by Arab News.
Eight people were sentenced to life in prison, nine to 15 years in prison and two to 10 years in jail for espionage and inciting public dissent, according to a statement released by the counter-terrorism prosecutor's office. Fifteen of those convicted were also stripped of Bahraini citizenship, the statement said. Speaking on condition of anonymity, a judicial source confirmed all 19 were Shi'ite Muslims.
The court found the group guilty of leaking information to Iran's elite Revolutionary Guards and Lebanon's Iranian-backed Hezbollah and of receiving "material support" from the two forces. They were also convicted of forming a cell to "incite the public against the government and call for regime change by force."
The prosecutor's office said the 19 belonged to al-Wafaa movement, a little-known group which Bahraini authorities say is linked to the Revolutionary Guards and Hezbollah.
Previously this month, Bahrain's public prosecution sentenced two nationals to jail terms and revoked their citizenship after they were convicted of training in Iran and the "possession of weapons for terrorist purposes."
The High Criminal Court convicted them of the counts of charges leveled against them and revoked their nationality.
One of the two accused received special training in weapons and explosives provided by the Revolutionary Guard in Iran, while the second facilitated travel for the first suspect. Based on a notification from the General Directorate for Criminal Investigation (CID), an inquiry was launched into the case of one the convicts who received military training in Iran.
The investigation confirmed that the first convict, who was among the most active participants in acts of rioting, rallying, and sabotage, was in contact with terrorists in Bahrain and abroad. The inquiry also established that he left Bahrain in 2015 and headed to Iran in coordination with terror leaders based abroad, with the help from other elements in the kingdom.
The Revolutionary Guard trained him in Iran on using, dismantling and assembling all types of military armament as well as shooting so as to prepare him to perpetrate terrorist operations. The second convict helped the first defendant travel to Iran was also involved in inciting him. The investigation revealed that terrorists tasked the first convict to monitor sensitive locations inside the Kingdom of Bahrain.
Besides that, Bahrain's interior minister Lieutenant General Sheikh Rashid bin Abdullah al-Khalifa accused Iran of harboring 160 Bahrainis convicted of terrorism and stripped of their citizenship. All 160 "fugitives" had been stripped of citizenship in "terrorism cases" targeting Bahraini police and security forces, told the Arabic-language daily Asharq al-Awsat.
He accused Iran's elite Revolutionary Guards of having trained the group, who were convicted of attacks that killed 25 security personnel and wounded 3,000 others. Khalifa added that there are direct ties between Iran's Revolutionary Guards and terrorist activities in Bahrain.
"Bahrain faced the threat of terrorism and was able to foil many terrorist acts. Physical evidence and strategic information proved the involvement of Iran's Revolutionary Guards in training terrorist members in Iranian camps on the use of explosives and automatic rifles and contributing to the smuggling of those weapons to Bahrain. They also provided support and funds and trained, formed and recruited terrorist groups targeting the security of Bahrain and Saudi Arabia, including the so-called terrorist organization Saraya al-Ashtar," Khalifa said.
Dozens of Bahrainis have been jailed and stripped of citizenship since the 2011 outbreak of protests demanding an elected government in the Sunni-ruled kingdom.
A key U.S. ally and home to the U.S. Fifth Fleet, Bahrain has tightened its grip on dissent since 2011, drawing harsh criticism from international rights groups for its treatment of the Shi'ite-majority population.
In April, parliament gave approval for military courts to try civilians charged with "terrorism," a vaguely defined legal term in the kingdom. Bahrain accuses Shi'ite Iran of training "terrorist cells" that aim to overthrow its government, an allegation Tehran denies.