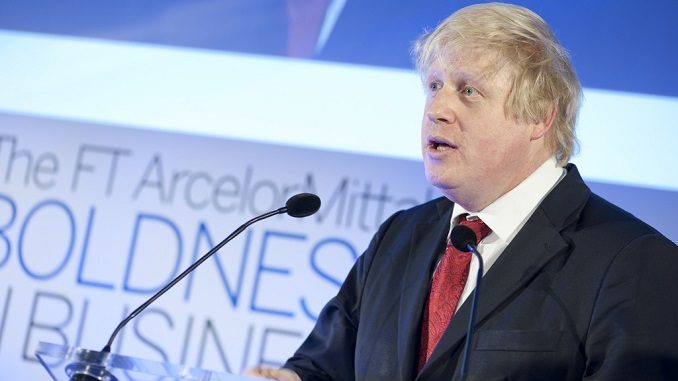 British Foreign Secretary Boris Johnson called his Iranian counterpart yesterday in a bid to clarify remarks which left him accused of jeopardizing the case of a British-Iranian woman jailed in Tehran, Herald Live reports.
Johnson faced calls to quit after telling a parliamentary committee last week that Nazanin Zaghari-Ratcliffe was training journalists in Iran when she was arrested for alleged sedition last year – a comment her employer and her family insisted he correct.
In the call with Iranian Foreign Minister Mohammad Javad Zarif, Johnson said the suggestion that his remarks had shed new light on the case was not true as it was clear she had been on holiday. He had been seeking to make the point that he condemned the Iranian view that training journalists was a crime, not that he believed Iranian allegations that Zaghari-Ratcliffe had been engaged in such activity.
Johnson said his remarks could form no justifiable basis for further action in this case and called for her release on humanitarian grounds.
According to Politico, Iran's foreign minister told Boris Johnson that the UK foreign secretary's comments about a British charity worker imprisoned in Iran did not lead to her being brought before a judge in Tehran at the weekend.
"Zarif said that the developments in the case over the weekend were unrelated to the Foreign Secretary's remarks and that he remained committed to working with the Foreign Secretary to finding a resolution to the case on humanitarian grounds," the statement said.
Johnson also informed Zarif he intends to visit Iran before the end of the year to discuss the case further, in a trip where he hopes to visit Zaghari-Ratcliffe in prison.
Nazanin Zaghari-Ratcliffe, who is serving a five-year jail sentence in Iran has submitted a formal request to meet Boris Johnson after he was forced to clarify remarks he made about her imprisonment. According to her husband Richard, Nazanin and her family are frustrated they have not been able to meet Johnson since their ordeal began 18 months ago.
"We've never met [Johnson]. We've long had that as a request to meet with the foreign secretary and for instance, last week Tulip Siddiq met with him and I wasn't allowed to attend, it was only the MPs.," Richard Ratcliffe told the Guardian.