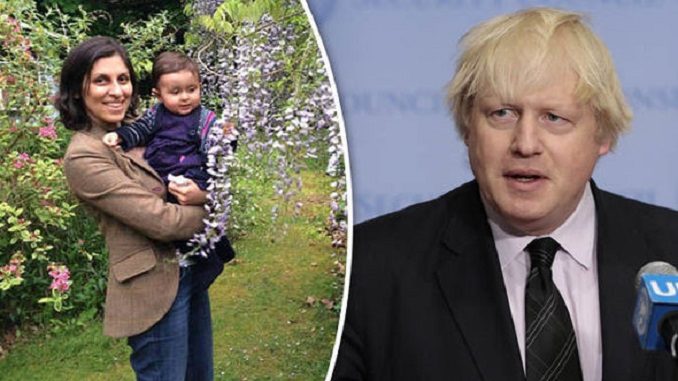 A British charity worker currently imprisoned in Iran on charges of espionage is facing another five years in detention after Foreign Secretary Boris Johnson said she had been teaching journalists in Tehran when she was arrested, according to the Times.
Johnson told a British parliamentary select committee last week that Nazanin Zaghari-Ratcliffe "was simply teaching people journalism" in Iran when she was arrested in April last year. Covertly teaching journalism is considered a crime in Iran. She is currently serving a five-year prison sentence after being convicted of plotting to overthrow Iran's clerical establishment, but now faces new charges of "propaganda against the regime."
Johnson told the British Parliament's Foreign Affairs Committee last week that Zaghari-Ratcliffe had gone to Iran last year to teach people journalism, a statement that the Thomson Reuters Foundation, the charity for which she works, said was incorrect and has put her in jeopardy of facing new charges in Iran.
The charity on November 6 called on Johnson to "immediately correct the serious mistake he made." In reply, a spokesman for the British Foreign Office did not retract the statement, but said:
"Last week's remarks by the foreign secretary provide no justifiable basis on which to bring any additional charges against Nazanin Zaghari-Ratcliffe. While criticizing the Iranian case against Mrs. Zaghari-Ratcliffe, the foreign secretary sought to explain that even the most extreme set of unproven Iranian allegations against her were insufficient reason for her detention and treatment."
She was brought again into court on November 4, where Johnson's comments three days earlier were cited as proof that she was engaged in "propaganda against the regime."
The Iranian judiciary's High Council for Human Rights said Johnson's comments proved Zaghari-Ratcliffe "had visited the country for anything but a holiday."
"For months it was claimed that Nazanin is a British-Iranian charity worker who went to see her family when she was arrested. Mr Johnson's statement has shed new light on the realities about Nazanin," the High Council for Human Rights wrote yesterday.
Her husband and her employer, the Thomson Reuters Foundation, deny that Zaghari-Ratcliffe had been working or teaching as a journalist. Zaghari-Ratcliffe's employer and family have said she was on vacation when she went to Iran, taking her baby daughter to meet her grandparents for the first time.
"She is not a journalist and has never trained journalists at the Thomson Reuters Foundation, where she is project manager in my Media Development team," Monique Villa, Thomson Reuters Foundation chief executive, said.
Villa said Johnson's "serious mistake…can only worsen her sentence."
"I see a direct correlation between this statement by Boris Johnson, who rightly condemned the treatment that Nazanin has received in Iran, and the fact that Nazanin was brought once again into court," she said.
Paul Jenkins, a senior lawyer at London's Matrix Chambers and a former head of the U.K. Government Legal Department said Johnson's comments were "extraordinary." Retweeting a transcript of the Foreign Secretary's evidence to the foreign affairs committee, Jenkins said: "Extraordinary even by the grotesque standards @BorisJohnson [sic]. Our nation suffers, individuals suffer because of his slack incompetence."
Tulip Siddiq, a lawmaker for the opposition Labour Party, said Johnson's failure to retract his comments had undermined efforts to secure Zaghari-Ratcliffe's release.
"The foreign secretary's failure to retract his comments to the Foreign Affairs Select Committee is unforgivable. His comments were both untrue and unhelpful to her case," said Siddiq, who represent's Zaghari-Ratcliffe's district in London.
Boris Johnson is expected to call Iran's foreign minister on Tuesday following reports that comments he made were being used in Tehran as a justification to extend the jail sentence imposed on a British woman.
Richard Ratcliffe, Zaghari-Ratcliffe's husband, said Johnson should make a statement in the House of Commons to correct his mistake in an effort to prevent the sentence being lengthened. Ratcliffe told BBC Radio 4's Today programme that a public retraction by Johnson was required.
"I would like him to retract in parliament, in parliament rather than in a phone call to his counterpart, what he said, and say clearly that Nazanin wasn't training journalists and that she was just there on holiday," he said.
Richard Ratcliffe said the "worst thing" Johnson could do now was "suddenly go quiet and to create this problem without making any clarifications".
"You can't make a muddle and then leave it. That would be the worst of both worlds," he said.
The shadow foreign secretary, Emily Thornberry, said Johnson should resign if his actions have damaged Zaghari-Ratcliffe's prospects of freedom. In a letter to the foreign secretary, Thornberry said that although Johnson's comment was not a deliberate error, it "reveals a fundamental lack of interest or concern for the details of Nazanin's case and the consequences of your words".
"In the event that your actions have indeed cause irreparable harm to Nazanin's prospects of freedom and result in her sentence being lengthened, I hope and trust that you will take full responsibility for that, in both a moral and political sense, and consider your position accordingly,"she told Johnson.