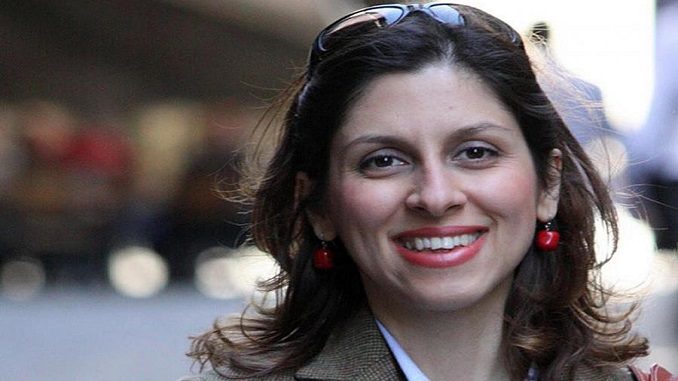 Britain is preparing to pay a decades old £450 million debt to Iran in a diplomatic effort at improving Nazanin Zaghari-Ratcliffe's chances of release, it has been reported. The 39-year-old mother-of-one was imprisoned by the Iranian government while on a family holiday in April 2016 for allegedly "plotting to topple the regime."
Now it has been reported the Foreign Secretary, Boris Johnson, is hoping to improve relations with Iran by paying back a historical debt owed since the 1970s. The former Shah of Iran paid the British government £650 million for 1,750 tanks but only 185 were delivered before his regime was brought down and the order cancelled. The International Chamber of Commerce demanded Britain pay £450 million back in 2009 but a ruling on international sanctions against Iran prevented this from happening.
It is thought that Zaghari-Ratcliffe may be being held by the Iranian government as "collateral" for the debt. Her husband, Richard Ratcliffe, has met with Johnson, asking that he find him safe passage to Iran and telling him the "softly softly" approach is not working. He told The Sun:
"It is important that the UK honours its international legal obligations, so that Iran can honour its legal obligations. They are separate things, but it is good for the atmosphere if they are all served."
Treasury and Foreign Office officials are working on a way around ongoing UN sanctions on military equipment, overseen by the EU, that currently forbid the payment. The money is already being held by the High Court on behalf of the Government, after the Hague's Permanent Court of Arbitration ruled in favour of Iran in 2001. Ahead of their meeting, Johnson said he would "leave no stone unturned" in his efforts to secure Zaghari-Ratcliffe's release. He agreed to consider giving her diplomatic protection status in a bid to demand her release.
The move would effectively make Zaghari-Ratcliffe's case a formal legal dispute between Britain and Iran, rather than simply a consular matter. But it is thought that the Foreign Office is concerned that it is not clear how the Iranian authorities would respond to the escalation of the dispute.
The Foreign Secretary also pledged to look at Ratcliffe's second request, to be able to accompany Boris to Teheran next month. Ratcliffe – who has been denied a visa to see his wife and three year-old daughter for the last 18 months – dubbed the meeting "positive and constructive." He also said he was no longer angry with Boris for saying Nazanin was in Iran to "train journalists" – a gaffe leaped on by Iran to slap an extra five years on her sentences. Despite widespread speculation, the government continues to insist that the two issues are unrelated. A spokeswoman told Mail Online:
"This is a long standing case and relates to contracts signed over 40 years ago with the pre-revolution Iranian regime. Funding to settle the debt was paid to the high court by the Treasury in 2002. Iran's Ministry of Defense remains subject to sanctions. It is wrong to link a completely separate debt issue with any other aspect of our bilateral relationship with Iran. "