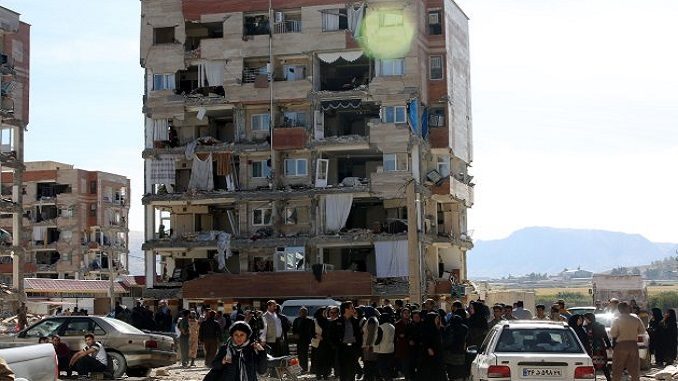 Over 420 people have died in the devastating earthquake that hit western Iran, while 12,000 homes have been destroyed in the catastrophic event. The latest statistics show that as of Tuesday morning 423 people have lost their lives and another 7,370 have sustained injuries as a result of the 7.3.-magnitude quake whose epicenter was near the Iran-Iraq border.
The Iranian government expressed its sympathy with the families of the deceased on Monday evening, declaring Tuesday as a day of mourning. The province of Kermanshah, which was most severely hit by the earthquake, previously declared three days of mourning, Tasnim news agency reports.
Numerous rescue teams from all around the country have gone to the province to provide help in searching for survivors, removing debris and saving the injured. The rescue and relief operations there are nearing their end, according to the head of Iran's Emergency Medical Service. However, relief operations may take much longer, as over 500 villages were badly damaged by Sunday's ruinous quake.
Mansoureh Bagheri, director of international operations at the Iranian Red Crescent said that it was likely the earthquake affected about 70,000 people and added that providing sheltering and food was a priority.
On Tuesday morning, the president visited several of the areas hit hardest by the massive earthquake. The city of Sarpol Zahab is among the worst hit ones where the military forces immediately headed to help with the response operations. Major General Abdolrahim Mousavi, the Commander of the Iranian Army, said several soldiers were also killed in the earthquake. CNN reported that people in Kermanshah lack basic necessities and are calling for help.
"There has been no help yet, neither food nor water, no clothing, no tents, there is nothing," a resident of the province said.
President Hassan Rouhani asserted people that the Iranian government is making efforts to find a solution as quickly as possible and house the people of Kermanshah.
While people are pleading for help, Iran's foreign minister said the country didn't need help in dealing with the crisis.
"We are grateful for global expressions of sympathy and offers of assistance. For now, we can manage our own resources. Many thanks for all offers and we will keep you posted," he tweeted.