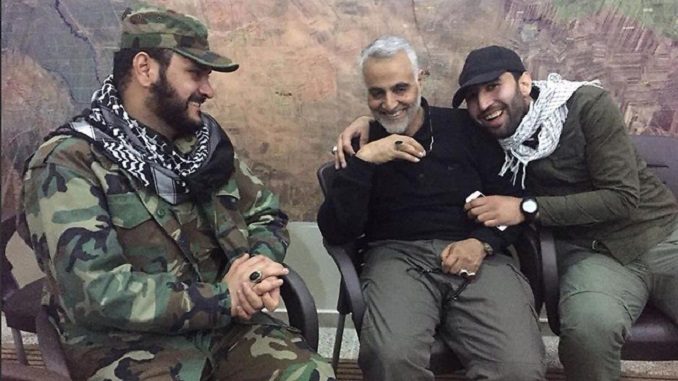 The head of Iran's powerful Quds Force derided American soldiers as incontinent cowards in a speech to troops during an offensive to retake a strategic eastern Syria town from the Islamic State, The Times of Israel reports.
In a speech posted online Sunday, Major General Qassem Soleimani can be seen giving a pep talk to Iranian soldiers accusing cowardly American soldiers of wearing diapers, apparently near al-Bukamal in eastern Syria, where Syrian regime forces and their allies have been fighting to recapture the town from Islamic State jihadists. In the video, Soleimani tells the troops American soldiers are not to be feared.
"Look at the American forces today. They are more than 1 million strong. But despite their numbers and their capabilities, they are cowards. When they arrived in Iraq, they brought diapers for their soldiers, so that they could urinate in them when scared," he says in the video, according to a translation provided Tuesday by the Washington-based Middle East Media Research Institute.
"You, on the other hand, have achieved victory with light weapons, Why? Because you are willing to make sacrifices," Soleimani adds.
It was not clear when the video was filmed. It was posted online by a group called the Syrian Army's Allies' Operation Room, according to MEMRI. On November 19, the Syrian regime said its army and allies had taken 80 percent of the desert border city of al-Bukamal, seen as the last Islamic State stronghold in Syria. Hezbollah forces were known to have been fighting alongside the Syrian regime there. Soleimani is considered a powerful figure, heading the elite Quds expeditionary force and leading Iranian troops fighting in Iraq and Syria.