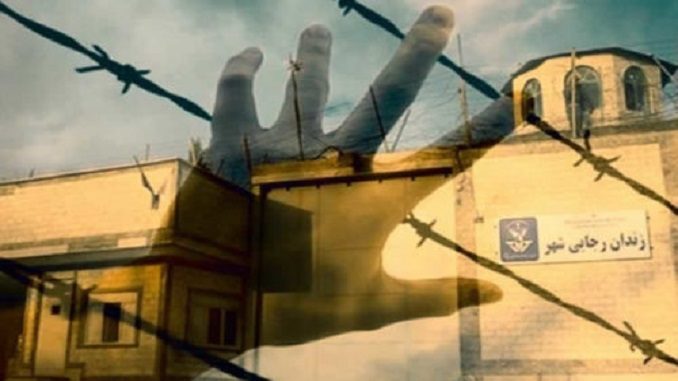 The Iranian regime authorities of Intelligence prison in Sanandaj placed a Kurdish political prisoner under the worst torture, Track Persia reports.
According to reports, the Intelligence agents of Sanandaj prison tried to force the Kurdish political prisoner, Afshin Hossein Panahi, to false confession and TV interview by Denailing and Parrilla (electroshocking) torture to his head and body but he did not surrender to the demands of the agents.
The reports indicate that part of Hossein Panahi's head is burned due to the electricity being connected to his head and he has also suffered severe damages to his back and knee. He is deprived of medical treatment in central prison of Sanandaj and the prison authorities prevent his transfer to medical centers or hospital outside the prison.
The political prisoner Afshin Hossein Panahi has been sentenced to eight and a half years imprisonment in a sham trial that lasted only a few minutes. He was charged with propaganda against the regime and cooperation with one of the Kurdish parties.
The persecution, torture and inhumane pressure on political and other prisoners continue in every Iranian prison. On November 29, a young prisoner in Rajaie Shahr Prison of Karaj committed suicide and passed away. He was identified as 25-year-old Mohammad Menbari. After protesting prison conditions, he was summoned by the head of Rajaie Shahr Prison, Ziaee, and was brutally beaten by prison guards to the extent that other prisoners said that his hand and feet broke.
Upon Ziaee's orders, he was then sexually abused in front of other prisoners and subsequently hanged (from the ceiling or wall). The young prisoner committed suicide as a result of the psychological pressures put on him due to this inhumane treatment and unfortunately passed away.
On the morning of November 29, Saber Malek Reiesi, a young Baluch political prisoner who is detained in the Central Ardabil Prison, was taken to the Quarantine Section where he was tied to a pole and beaten.
Farhad Nowrozi, the head of the Interior Section, Sadegh Zadeh, a prison guard officer and a number of soldiers severely beat the young prisoner with sticks and whips. The beating was so intense that he was bruised and battered in his face, back and stomach. Malek Reiesi went on a hunger strike on November 29 in protest to this inhumane treatment.
Last year on December 18, 2016, he was tied to a pole in the prison's courtyard and was left there for 14 hours in the freezing temperatures after being beaten. Malek Reiesi was arrested when he was 17 years old and was tortured. He is currently 25 years old and is one of the youngest (political) prisoners in Iran.
Meanwhile, three former political prisoners, who were rearrested last year, have been sentenced to overall 28 years imprisonment by the Tehran Revolutionary Court. Majid Asadi, Payam Shakiba and Mohammad Banazadeh Amirkhizi were charged with "acting against national security by gathering and conspiring" and "spreading propaganda against the government."
Majid Asadi was sentenced to 6 years behind bars plus two years living in exile in the city of Borazjan, in Bushehr province, south of Iran, while both Mohammad Amirkhizi and Payam Shakiba were each sentenced to 11 years of prison. Majid Asadi and Mohammad Amirkhizi were also sentenced to two years of forced residence in the towns of Borazjan in Bushehr Province and Nick Shahr in Sistan and Baluchistan Province, respectively.
Political activist Majid Asadi was arrested by agents of the regime's intelligence ministry on February 18. Assadi was kept in solitary confinement under severe duress for 50 days and was incarcerated in Evin's wards 209 and 240 for months before being transferred to the Gohadasht prison in Karaj, west of Tehran. Incidentally, his transfer took place a short while before the foreign ambassadors' tour of Evin. Assadi previously served another four-year prison term from 2011 to 2015 for attending a ceremony commemorating the victims of the 1999 student protests in Tehran.
Thirty-year-old former students rights activist, Payam Shakiba was also arrested in 2009 for his role in disclosing sexual abuse of a female student by an official at Zanjan's university. He was finally sentenced to six years prison.
Mohammad Amirkhizi, 63, was also arrested in 2009 charged with supporting the People's Mojahedin Organization of Iran (PMOI). He was released in 2014, after spending five years behind bars. Earlier, Amirkhizi's wife and his brothers were also imprisoned who were later released. The family was charged with meeting Amirkhizi's children in PMOI's Camp Ashraf in Iraq.