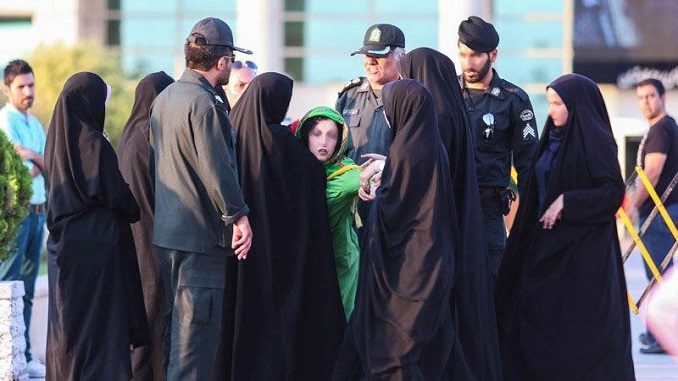 People from Tehran who violate Islamic codes by acts like wearing nail polish, heavy makeup, or improperly wearing their headscarves will no longer be arrested, Tehran's police announced. Instead, the police will educate people who breach the codes Brigadier General Hossein Rahimi, chief of Tehran's police, explained.
"Based on a society-oriented, educational approach, the police will not arrest those who don't respect Islamic values. It will instead educate them," said Rahimi, according to the official Islamic Republic News Agency.
The move is a sign of easing social strictures under relatively moderate President Hassan Rouhani, The Wall Street Journal reports. Women from Iran had to wear headscarves since 1979 Iranian Revolution. They are often cited by police for letting the scarves fall loose. According to the police in the capital of Iran, in late 2015 they dealt with 40,000 cases of women who had allowed their scarves to fall below their necks.
Even though young Iranians have called for officials to reverse restrictions on their appearances, helping vote in a relatively moderate president in 2013 who they believed would act on their behalf. Until now, Rouhani did not uphold his promises to ease policing of Islamic values. Two years ago the leader told the police that enforcing the religious law was not their job, but police officers continued arresting people for infractions.
Critics say it remains to be seen whether the new approach will be enforced and experts think that it's no coincidence that the timing of the policy shift comes as U.S. President Donald Trump imposed new sanctions on Iranians.
Last week the police in Tehran arrested more than 200 people for drinking and dancing while celebrating the winter solstice. Last year 7,000 undercover morality police officers were deployed and several female models were arrested because they posted pictures of themselves on Instagram without headscarves.