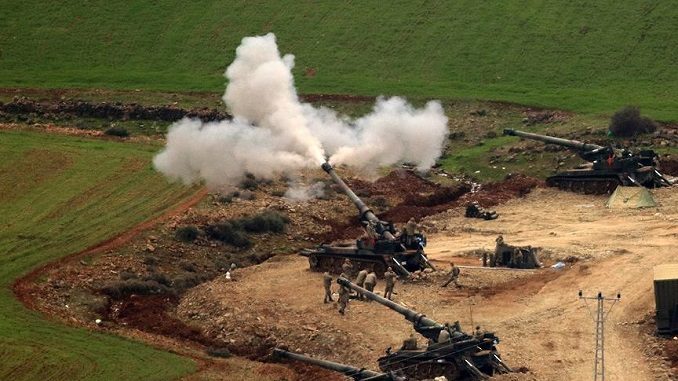 Iran has urged Turkey to stop its military offensive against Kurds in a northern region of Syria, claiming Ankara's actions have breached the war-ravaged country's sovereignty and helped to increase instability, Express reports.
Last month Turkey launched the 'Operation Olive Branch' air and ground campaign against the Kurdish YPG militia in the northern region of Afrin.
"Turkey should stop its operation and respect Syria's sovereignty and territorial integrity. Turkey's actions can bring back insecurity, instability, and terrorism to Syria," Bahrain Qasemi, Iran's foreign ministry spokesman, said.
Qasemi said any solution to the crisis should be discussed in talks in the Kazakh capital Astana, sponsored by Russia, Iran, and Turkey. He said Iran is in continuous talks with both Turkey and Russia about the latest developments in Syria. The three countries struck a deal to try to stop pro-government forces and Islamist insurgents from fighting in the region – but the efforts have failed.
Russia and Iran both back Syrian President Bashar al-Assad, while Turkey supports those fighting against the dictator who is accused of killing his own people. Turkey considers the Kurdish YPG, which is backed by the US, to be a terrorist group and an extension of the Kurdistan Workers Party (PKK). The PKK has fought an insurgency in Turkey's largely Kurdish southeast since 1984.
Hundreds of Kurds living in Lebanon protested Monday against Turkey's military offensive in Syria's Kurdish enclave of Afrin. Several demonstrations in support of Syria's Kurds have taken place in the Lebanese capital and across the world since Ankara launched its operation last month.
The demonstrators, some of them refugees and others members of Lebanon's long-established Kurdish community, held their protest near the U.S. embassy on the outskirts of Beirut. They described feeling abandoned by Washington.
A Kurdish woman said "we the Kurdish community in Lebanon refuse and protest the Turkish operation against Afrin. We are protesting outside the U.S. embassy to tell the American people we Kurds are peaceful people."
Several of the protesters at the demonstration, which passed without any incident, were carrying olive branches and waving YPG posters. Some of them also held portraits of a Kurdish female combatant, Barin Kobani, whose corpse appeared in a shocking video last week. Her family and Kurdish officials have accused Turkish-backed rebels of "defiling" her body.
The Syrian government has called the offensive in Afrin an illegal "aggression".
Iran's ultimatum came as Turkey's army said it had set up a military post southwest of the Syrian city of Aleppo today. It marks the deepest position they have established so far inside northwest Syria and is part of a deal with Russia and Iran aimed at reducing violence there. Turkey agreed to set up 12 observation posts in Idlib and neighboring provinces under the agreement.
A Russian pilot blew himself up with a grenade after his fighter jet was shot down and crashed in the Idlib province on Saturday, Russia's defense ministry has confirmed. Major Roman Filipov ejected from the plane and fought with rebels before killing himself as they closed in on him.
In December, the Syrian army, Iranian-backed militias, and heavy Russian air power launched an offensive to take territory in Idlib. The Syrian civil war, now entering its eighth year, has killed hundreds of thousands of people and driven more than 11 million from their homes.
Idlib is now one of the last main strongholds of rebels opposed to President Bashar al-Assad after Russia joined the war on the side of Assad's government in 2015.