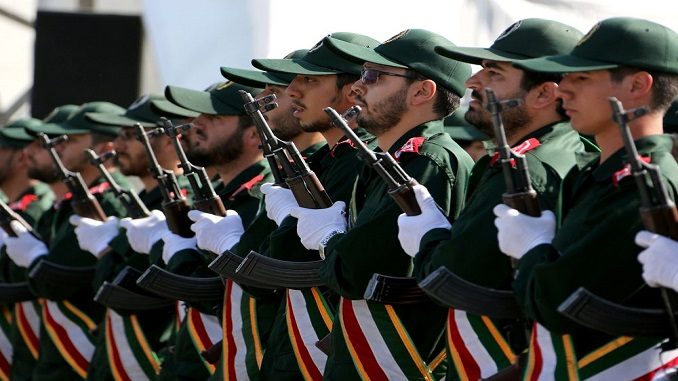 Citizens of six countries have joined an auxiliary force that supports Iran's world view, and have sworn allegiance to the Islamic Republic's supreme leader, according to a top Iranian military commander, Bloomberg reports.
Iran "has Basijis of the Islamic world from six countries in Syria and Iraq," said General Mohammad Reza Yazdi, the commander of the Islamic Revolutionary Guard Corps for Tehran. Basij are present from other countries, too," the semi-official Fars News Agency quoted him as saying.
"But naming them could cause problems."
The Basij is a civilian volunteer force established during the Iran-Iraq war, but which in Iran has since taken on an internal security role and is now controlled by the Guards. In Syria, Yazdi said, the Basij is mainly engaged in "cultural activities," an apparent reference to non-military assistance to promote Iran's state ideology and win local support. Previously, the IRGC Chief-Commander has hailed the role played by popular forces in the recent regional victories against terrorists, saying armed resistance cells are being established across the Middle East under the inspiration of Iran's Basij.
In an address to a huge gathering of Tehran's Basij (voluntary) forces on Sunday, Chief Commander of the Islamic Revolution Guards Corps Major General Mohammad-Ali Jafari outlined the major contribution of popular forces to the resistance front and said the IRGC is honoured to establish the first group of such forces in the region, known as Defenders of the Holy Shrine. He went on to say Lebanon's Hezbollah and Popular Mobilization Units in Iraq are inspired by popular forces in Iran. "We see the same inspiration in Yemen and other regional states."
Jafari pointed to the late founder of the Islamic Republic Imam Khomeini's important advice on the necessity of creating resistance cells across the regional states and said today the cells have been established in the region and "we will see their regional affects in the near future."
"Our war knows no border and as you saw in Syria, Muslims from all countries rushed voluntarily to the battlefield against the enemy," he said.
Major General Jafari also pointed to Iran's advisory missions in Iraq and Syria, saying that recent victories of the resistance forces over foreign-backed terrorists is the result of the presence of Iranian advisers and commanders as well as the countries' popular forces. During a meeting with Pakistani Chief of Army Staff Qamar Javed Bajwa in Tehran earlier this month, Commander of the Islamic Revolution Guards Corps (IRGC) Major General Mohammad Ali Jafari urged Pakistan to establish a Pakistani version of Iran's "Basij" forces, capable to back the Army of Pakistan. Jafari also voiced his country's readiness to offer its experience in training those new forces.
"Iran is ready to offer its experience of forty years of defense, popular resistance and dealing with hostile threats to neighboring Pakistan," he said.
Iran-backed Shi'ite militias have fought alongside allied government forces in Syria and Iraq, playing a lead role in dismantling the Islamic State's self-declared caliphate. But Tehran's growing influence has also escalated its regional rivalry with top Arab power Saudi Arabia. In a mark of the country's expanding regional significance, Iranian President Hassan Rouhani and his Turkish counterpart were last week invited to Russia by Vladimir Putin, where the three leaders developed their shared vision for a Syria peace plan.