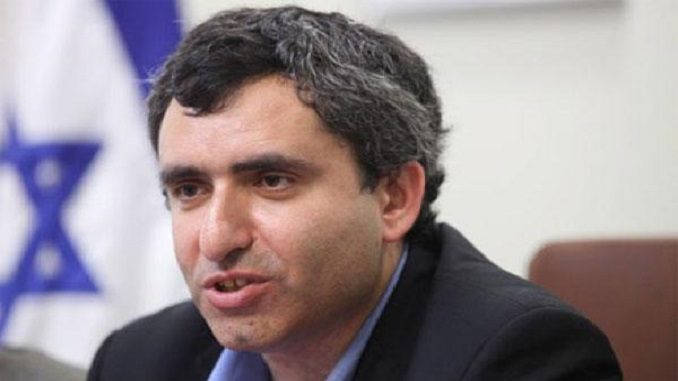 A senior Israeli minister said the Israeli government will prevent Iran from arming Hezbollah in Lebanon, "just as it prevented it in Syria," Middle East Monitor reports.
"We have prevented Iran's countless attempts to arm Hezbollah from inside Syria, and now they (Iranians) are trying to do the same on Lebanese territories. But as we knew how to get them out of Syria, we will do the same in Lebanon," said Ze'ev Elkin, Minister of Jerusalem Affairs, in an interview which was published on the website of Yedioth Ahronoth newspaper, on Tuesday, without stating further details.
Elkin accompanied Israeli Prime Minister Benjamin Netanyahu during his meeting with Russian President Vladimir Putin in Moscow, on Monday, in which they focused on developments in Syria and Lebanon.
"First, we discussed the issue of Iran's continued attempts of military positioning in Syria. Second, we discussed the issue of Iranian attempts to establish precision missile factories in Lebanon. Third, we discussed the step the U.S. president led to amending Iran's nuclear deal," Elkin said when talking about the meeting with Putin.
The Israeli official refused to reveal Russian President Vladimir Putin's standpoint about these issues.
"The Russians have been in Syrian airspace for two and a half years, but Israel has managed to freely maintain the status quo to operate in the Syrian and Lebanese fields, despite the existence of Russia. This should not be considered as an inevitable situation since it is clear that the Iranians and the Syrians are not very happy with it," Elkin said in an indirect confession about Israel's air attacks in Syria and Lebanon.
Elkin was not clear about the possibility of a new war on Lebanon.
"If Lebanon manages its own affairs, we will live in a somewhat more transparent world. Nevertheless, it is clear that it has no interest in fighting with Israel and has been severely damaged by the previous round of hostile activities. It's not just about us, but also about Hezbollah or, in other words, Iran. Hezbollah is just a long arm of Iran."
Israeli Prime Minister Prime Minister Benjamin Netanyahu in Moscow said that Israel will not remain idle as Iran expand its footprints in Lebanon and Syria, and he is determined to do whatever is necessary to prevent this.  The statements come a day after the spokesperson for Israeli Defense Force (IDF) Brigadier General Ronen Manelis in a rare article in Lebanese opposition website Ahewar warned that Israel would launch a war against Lebanon if Iran and Hezbollah continue to extend its influence in the country.
Arguing that Iran is building precession guided missile factory in Lebanon, Manelis said, "Lebanon has become – both by its own actions and omissions and by a blind eye from many members of the international community – one large missile factory." In a provocative language, Manelis said that Lebanon is becoming an Iranian branch and Hezbollah's attempt is to take control of the state. He warned that this could lead to a third war between the two countries. In 2006, Israel launched a war against Lebanon targeting Hezbollah forces. The 34-day military conflict, which killed more than one thousand Lebanese civilians, continued until the ceasefire was brokered by United Nations.
"The future of Lebanese citizens is in the hands of a dictator who sits in Tehran. I think it is right to warn the residents of Lebanon of the Iranian game in their security and in their future," Manelis wrote.
Manelis' threat is a reflection of what had been long held by Israel, which considers growing Iranian influence in Lebanon and other parts of Middle East as a threat.
Reiterating the position, Israeli Defense Minister Avigdor Lieberman, warning of Iranian influence in its backyard said: "When it comes to Lebanon, we are using all diplomatic leverages and other leverages to prevent the production of missiles, and the last thing I would want is to enter a third Lebanon war
In a similar context, the Israeli newspaper stated that a Russian delegation, headed by Russian Security Council Secretary Nikolai Patrushev, will arrive in Israel on Wednesday for an official visit. The newspaper added that "the delegation will discuss the Iranian position in Syria and possible amendments to the Iranian nuclear deal."