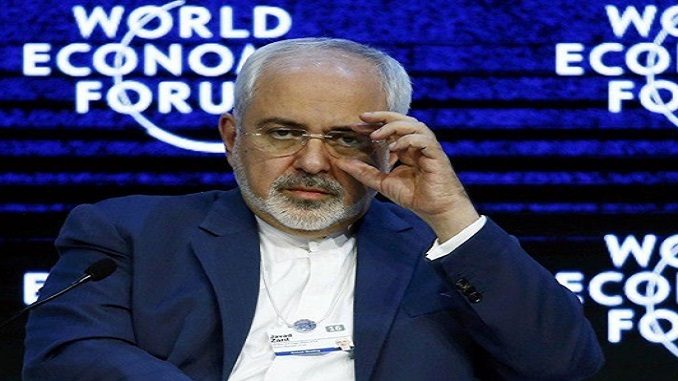 Gulf Arab officials used the World Economic Forum in Davos on Wednesday to slam Iran for what they said was its destabilizing behavior in the region, taking advantage of Tehran's conspicuous absence at the annual event, Reuters reports.
Iranian foreign minister Mohammad Javad Zarif had been a regular presence at the annual forum that brings together top politicians, CEOs, and bankers and he often clashed with his Gulf Arab counterparts at competing sessions. But this year, he did not show. As a result, the platform was wide open for Saudi Arabia, the United Arab Emirates and Bahrain to criticize Iran, as well as more measured criticism from others.
Iran, the leading Shi'ite Muslim power, and Sunni Muslim Saudi Arabia, a key U.S. ally, are rivals for influence in the Middle East where they support opposing sides in Yemen, Syria, Iraq, and Lebanon.
"In the Middle East, we have two competing visions. Vision of light … and we have a vision of darkness, and the vision of darkness is sectarianism, it's trying to restore an empire that was destroyed thousands of years ago, it's using sectarianism and terrorism in order to interfere in the affairs of other countries. History has shown that light always prevails over darkness," Saudi Foreign Minister Adel al-Jubeir told a panel at the forum.
Lebanon's Prime Minister Saad al-Hariri gave a more measured critique. His coalition government, which includes the Iran-backed Hezbollah group, means that he has had to tread carefully. His Saudi allies accuse Hezbollah of waging war across the Middle East as agents of Iran.
"Iran is a country that we need to deal with … As prime minister, I would like to have the best relationship with Iran, but I would like it state to stat.  Iran represents a challenge in the region maybe but dialogue also is a part of resolving these issues. Iran cannot meddle in Yemen," Hariri said at a separate panel.
Despite reports that Iran's foreign minister had canceled a scheduled trip to Davos to attend the World Economic Forum, Tehran says he never planned to participate in this year's summit. On Jan. 21, Reuters said Foreign Minister Mohammad Javad Zarif had canceled his trip to Davos. In response, Iran's Foreign Ministry spokesman Bahram Qassemi denied these news stories, saying Zarif had no plan to attend this year's World Economic Forum. Qassemi said Jan. 22 that Zarif's presence in Tehran was necessary to observe structural changes within the ministry.
Meanwhile, a Reformist newspaper slammed the Iranian government for missing the opportunity to attend Davos. Ebtekar newspaper wrote Jan. 24, "it is not clear whether this reason can be convincing [or not], but besides Zarif, isn't there another official from our country who can attend this [event on the] international stage?"
"Although Iran has been one of the constant participants in the Davos summit in recent years, and even Hassan Rouhani invited foreign investors to Iran during his presence at the summit … in the first year of his presidency. But this participation is very low compared with developing countries. In fact, during these years, Iran has not been able to take advantage of this global opportunity and even has had some negative views toward this summit. Iran has been left behind by … other countries who have joined the process of serious convergent trends due to the lack of [Iranian] attention to the economic and technological opportunities of the world."
The paper said public diplomacy "has been one of the important weaknesses of Iran in the international arena" and said that Zarif for the last few years has been able to address this issue through his participation in international events.
Iranian Foreign Ministry Spokesman Bahram Qassemi has elaborated on the reasons for Foreign Minister Mohammad Javad Zarif's decision to remain in Tehran instead of attending the 48th Annual World Economic Forum in Davos, Switzerland. Qassemi dismissed as baseless any report on the last-minute cancellation of the visit to Davos by the Iranian foreign minister, saying despite receiving an official invitation to attend the forum, Zarif preferred to stay in Tehran to oversee the implementation of some structural changes in the Iranian Foreign Ministry.
In a Farsi interview with the Fars News Agency, the spokesman also said Iranian foreign minister decided not to have any foreign trips these days due to the importance of implementing the fundamental changes in the ministry.
"Since Iranian foreign minister had held talks with a number of delegates attending Davos over the past few months, he decided to stay in Tehran and put his focus on the implementation of the structural changes in his ministry," he noted.
Qassemi went on to say that the structural changes, initiated by Zarif, had been under discussion over the past years. The spokesman also cited the changes as the most fundamental ones in the structure of Iran's Foreign Ministry and added the new changes have been implemented since January 21.
"The changes were finalized after long hours of discussion among experts, specialists and high and mid-ranking officials at the ministry."