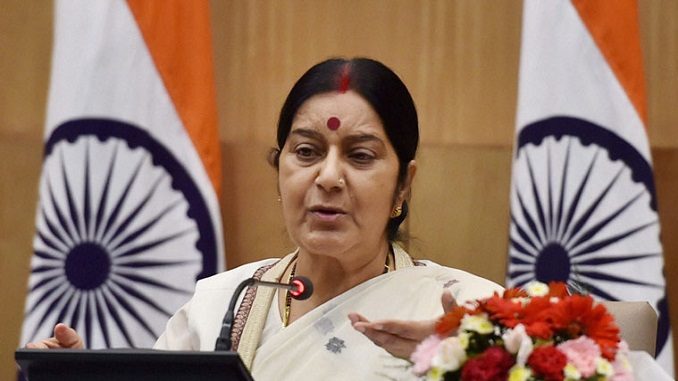 India's Foreign Affairs Minister Sushma Swaraj made an unexpected visit to Iran on Saturday and had a luncheon meeting with Iranian counterpart Javad Zarif. The leaders talked about matters of mutual interest, Hindustan Times reports.
The unscheduled stopover in Tehran followed Swaraj's departure from her visit to Sochi, where she represented her country at the 16th Meeting of Council of Government of Shanghai Cooperation Organisation (SCO) Member States.
"Reinforcing our traditionally close and civilizational linkages, EAM @SushmaSwaraj had a luncheon meeting with the Foreign Minister of Iran Dr. Javad Zarif in #Tehran. Both sides discussed issues of mutual interest," the spokesperson for the external affairs ministry tweeted.
The two ministers reportedly reviewed the implementation of the Chabahar port project in which India is a crucial partner. The port will most likely increase trade between India, Iran and Afghanistan, a key development in bypassing Pakistan which is denying transit access to New Delhi for trade with the two countries.
"Shahid Beheshti port that has recently been inaugurated in Chabahar, enhances bilateral and regional relations, plays a central role in regional development and acts as a communication path connecting Asian countries to other countries around the world through the gulf of Oman and the Indian Ocean," said Zarif.
India is looking to increase engagement with Iran by raising oil imports and possible shipments of natural gas and the issue is believed to have figured in the meeting.
The unexpected visit reinforced Iranian-Indian close relationship, established in 1950.