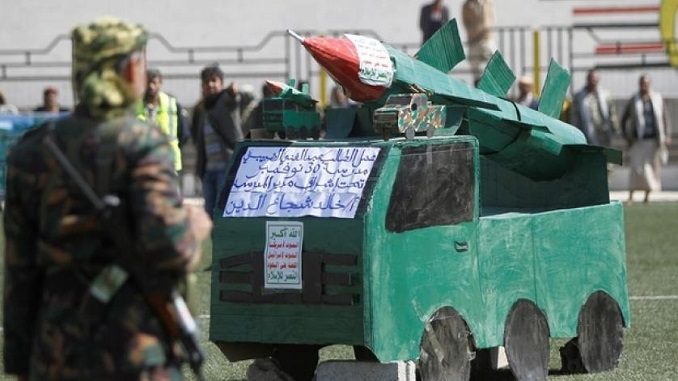 There has been evidence that Iran violated UN Resolution 2216 by providing Houthi militias with arms and munitions, according to a UN experts' report that showed Tehran's involvement in Yemen, Asharq al-Awsat reports.
The 79-page confidential report, seen on Friday by Asharq Al-Awsat, includes 331 attached papers and will be distributed to UN Security Council state members on January 27. The findings of the report are expected to enhance accusations launched by US President Donald Trump and his administration against Iran for providing Houthis with weapons, including ballistic missiles.
"The panel has identified missile remnants, related military equipment and military unmanned aerial vehicles that are of Iranian origin and were introduced into Yemen after the imposition of the targeted arms embargo," said the report.
Referring to the Security Council resolution that imposed the arms embargo, it said:
"As a result, the panel finds that the Republic of Iran is in non-compliance with paragraph 14 of resolution 2216 in that it failed to take the necessary measures to prevent the direct or indirect supply, sale or transfer of missile and unmanned aerial vehicles to the Houthi-Saleh alliance."
Iran has strongly denied arming the Houthis and last month accused U.S. Ambassador Nikki Haley of presenting "fabricated" evidence that a November 4 missile fired at Riyadh airport was Iranian-made.
The UN experts did not rule out that Iran had sent "advisers" to help the Houthis in their war against the Saudi-led coalition. The UN experts traveled to Saudi Arabia in November and again last month to inspect the debris. They found that missile remnants' features were "consistent with those of the Iranian-designed and manufactured Qiam-1 missile" and "almost certainly produced by the same manufacturer."
"Drones were virtually identical in design to that of an Iranian-made UAV manufactured by the Iranian Aircraft Manufacturing Industries. Iran failed to take the necessary measures to prevent the direct or indirect supply, sale or transfer of weapons to the Houthis," the report added.
The panel of UN experts also found that Houthis had received more advanced missiles in January 2015, including the Scud C and Hwaseong artillery units," adding that their use against civilian targets in Saudi Arabia violates the international human rights law.
A separate report last month said UN officials had examined the missile fragments and found that they were of "common origin", but they were unable to reach any firm conclusions about whether Iran was the source. Saudi Arabia has led a bombing campaign against Houthi rebels since March 2015. The war has killed more than 10,000 people and sparked a massive humanitarian crisis that has been aggravated by a Saudi siege on the country's ports.
"After nearly three years of conflict, Yemen as a state has all but ceased to exist. Instead of a single state, there are warring statelets, and no one side has the political support or the military strength to reunite the country or achieve victory on the battlefield," said the report.
Iran accuses the U.S. of using Yemen as a pretext to push President Donald Trump's anti-Iranian agenda. Last month, Iran's foreign minister, Javad Zarif, compared the charges against Iran to U.S. claims in 2003 that Iraq had weapons of mass destruction, which turned out to be false.
"#KSA bombs #Yemen to smithereens, killing 1000's of innocents including babies, spreads cholera and famine, but of course blames Iran," Zarif tweeted in November.
Washington critics also point to the humanitarian effects of the U.S.-backed Saudi bombardment campaign in Yemen.
There was no immediate comment from Iran on the United Nations report, which was prepared by experts for a Council panel responsible for monitoring compliance with the arms embargo. The report came nearly a month after Nikki R. Haley, the American ambassador to the United Nations, showed reporters a display of recovered war debris, including missile pieces and drone fragments, that she described as proof of Iranian complicity in arming the Houthis. Haley's presentation was greeted at the time with some skepticism, and Iranian officials dismissed it as propaganda.
Whether the United Nations panel's findings will lead to a shift in opinion against Iran and possible punitive action by the Security Council is unclear.
But news of the findings came as the Trump administration has ramped up pressure on Iran over a range of concerns, most notably the 2015 nuclear deal between Iran and big powers including the United States.