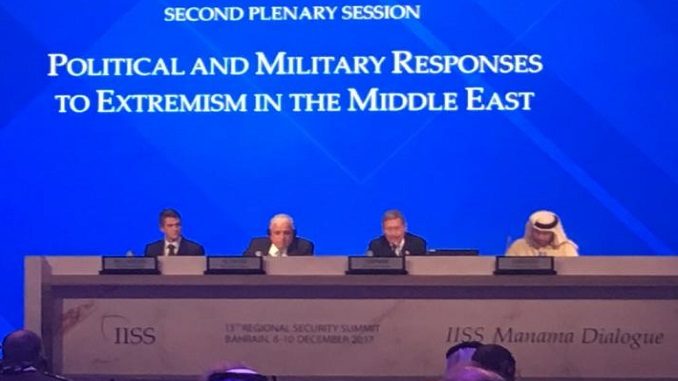 Iran remains the major sponsor of terrorist militias in the region, participants at the Manama Dialogue 2017 have said, accusing Tehran of planting proxy forces in several areas to achieve its goals in spreading chaos, sectarianism and extremism, Gulf News reports.
Bahrain's Foreign Minister, Shaikh Khalid Bin Ahmad Al Khalifa, told attendees at the Manama Dialogue 2017 that the Iranian Regime had a "network of surrogates" wherever it can in the region and beyond, reaching as far as West Africa and Latin America, ready to commit acts of violence and destruction across the Middle East, West Africa, and Latin America.
"We see this clearly in Yemen, we see it in Syria as well. And we continue to experience Iranian sabotage and terror in our own country. When we look at Iran, we see a stark difference between Iran as a country with a proud people and a rich culture and history and the Islamic Republic as a regime, that impedes the progress of Iran and prioritises regional expansion to the welfare of their own people," he said as he addressed the Manama Dialogue, an international security conference held annually in Bahrain.
Shaikh Khalid deplored the missed opportunities and "what might have been and what could be achieved in terms of economic, trade, and cultural ties."
"Should Iran stop attempting to export its revolution and return to the fold of responsible members of the international community, the entire region will benefit," he said.
The foreign minister, who was speaking at a plenary session on Saturday, said that Iran "continues to train operatives to undertake terrorist acts in Bahrain, and in Kuwait, along with smuggling weapons and explosives and stashing them in the neighborhood."
"We cannot stand by while an armed and dangerous terrorist organization has its way in country after country, and we continue to urge all our friends and allies to recognise Hezbollah for what it really is, a terrorist organization," he said at the conference organised by the International Institute for Strategic Studies (IISS).
In his opening address, Sir John Jenkins, Executive Director, IISS-Middle East, said that the rise of Iran and the emergence of radical Islamist ideologies were the most significant developments in the Middle East in the past 30 years.
Throughout the two-day conference, terrorism and Cybersecurity were addressed as the top priority for combating terrorism and extremism amid calls to change the focus from traditional political and military solutions in the to eliminate them.
On Sunday, the experts highlighted cybersecurity as a particular concern after many hacking attempts by the Regime's Cyber Army and called for a change in focus from the traditional political and military solutions. The conference called for collaborative partnerships and open dialogues between different countries to foster success in the region and across the world.
The international security conference has reaffirmed the importance of tackling the Iran-backed Houthis in Yemen and all other Iranian forces who are supporting terrorism and destabilising the Middle East. UAE Minister of State Anwar Gargash said that Iran's proxies are disrupting the region, citing the Houthis who recently assassinated former Yemeni President Ali Abdallah Saleh on the order of Iran in particular. Gargash also noted that he was concerned about the missile programme, especially after Iranian-built missiles were fired at Saudi Arabia by the Houthis. He said:
"We're very worried by Iran's missile capability."
Gargash and Iraq's Vice President Iyad Allawi expressed fears that Donald Trump's decision to recognise Jerusalem as the capital of Israel was a gift to radicalism as radical Islamic terrorists, like Iran, are already using it to stir up sectarian violence.
UK Secretary of Defence Gavin Williamson said that the UK would invest at least £10 million to strengthen counter-terrorism and stressed that terrorism must not only be fought on the ground but also by "shutting down their social media mouthpieces."
Sheikh Khalid rejected the idea that the Houthis had any positive role to play in rebuilding Yemen as they seek to establish an Iranian-backed terrorist state, citing the role that Iran-backed Hezbollah has in Lebanon. He said:
"This is in addition to [Iran's] smuggling of weapons and explosives and training of terrorists to carry out terrorist operations in Bahrain, Kuwait and other countries."
Sheikh Khalid noted that the recent Arab quartet decision to boycott Iran-ally Qatar was a result of attempts by Qatar and Iran to destroy the security and stability of other countries, like Egypt, Yemen, and Libya. He said that Saudi Arabia, the UAE, Bahrain, and Egypt, would re-establish relations with Qatar if it agreed to demands, including ending its support for terrorism.