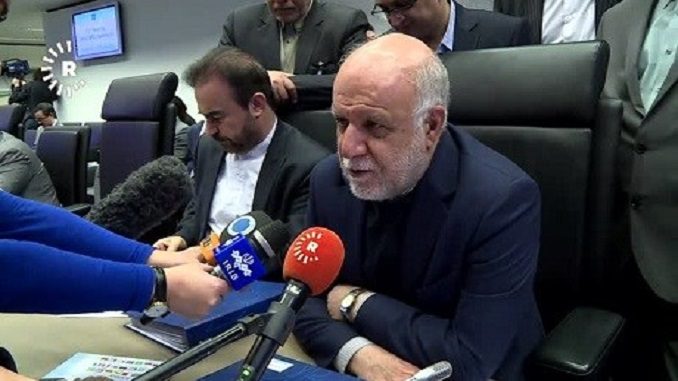 The Iranian oil minister told Rudaw on Thursday that Iran and Iraq will sign a contract to send up to 60,000 bpd of oil by truck from Kirkuk oil fields to Iran, and that it is likely they will sign a contract to give related companies the mandate to assess an oil pipeline from Kirkuk to Iran.
Bijan Zangeneh, who attended a meeting of the Organization for Petroleum Exporting Countries (OPEC) in Vienna on Thursday, said that their discussion with the Iraqi government does not include the Kurdistan Region.
Zangeneh said they made "good contracts" with Iraq's marketing oil company (SOMO) regarding Kirkuk oil and that the first stage is to truck oil to Iran starting from 15,000 bpd. This will then be increased to 60,000 bpd. He said, however, the "most important decision is to establish a pipeline from Kirkuk to Iran."
The Iranian oil ministry is to have a meeting with SOMO in Iran next week to sign the oil-truck contract, and then discuss the consultations regarding the oil pipeline that may enter Iran through Qasr-e-Shirin, about 230 km southeast of Kirkuk.
Zangeneh outlined a two-phase plan to import Kirkuk oil under a swap scheme in comments to reporters following his meeting with Iraq's Jabbar Al Luaibi in Vienna. In the first phase, oil from the field – which Iraq retook from Kurdish control in October – will be trucked over the Iraq-Iran border. These shipments were anticipated to begin this week at a rate of 15,000 bpd, which could be ramped up as high as 60,000 bpd.
A second phase will see the construction of a 400-kilometre pipeline between the Kirkuk oilfield and the Tang Fani pumping station, located in southwest Iran.
"For the second phase, we need to sign a contract for studies. A consultant has been chosen and the service description should be decided. From Tang Fani, the oil can go both to northern refineries or go south and then reaches exports lines. I hope we sign the deal next week for the truck transfer, so we can slowly start the oil imports [and] raise it to 60,000 bpd. The important thing is to start the work and this relationship, which is a strategic one between Iran and Iraq, is established," Zangeneh said, as quoted by Platts.
The swap deal is expected to involve exports of an equivalent amount of Iranian crude from southern Persian Gulf facilities.
Iraq's oil minister Jabbar al-Luaibi, who had announced an initial agreement with Iran earlier this month to truck Kirkuk oil to Iran's Kermanshah, says  that Iraq has "many options" to export oil from Kirkuk, including repairing the Iraqi pipeline to Turkey that will take a year to complete.  He said his country also has a contract with Iran to truck about 60,000 bpd and that 190,000 bpd is also transferred from Kirkuk to Iraqi refineries.
The Kurdish Prime Minister Nechirvan Barzani on Monday accused the Iraqi government of failing to benefit from the Kirkuk oil since it has halted exports and does not allow the KRG to export Kirkuk oil either. Luaibi, the Iraqi minister said they "are ready for dialogue," with the KRG regarding the oil export, "but so far they have not approached us for dialogue."
Kirkuk oil fields were under the KRG control from late 2014 until mid-October when the Iraqi forces took control of the oil-rich province as part of their military incursion against the Kurdish Peshmerga following the Kurdish vote on independence in September.
Meanwhile, a top Iranian energy official unveiled plans for a rise in natural gas exports to neighboring Iraq next year. In an interview with Tasnim on Saturday, Managing Director of the National Iranian Gas Company (NIGC) Hamid Reza Araqi said the country's exports of natural gas to Iraq will increase during the spring and summer of 2018. Iran's gas exports to Iraq, which now stand at 14 million cubic meters a day, are planned to reach the maximum capacity within three years, he added.
On June 22, at the beginning of summer, Iran started to export natural gas to Iraq after years of negotiations and settlement of financial problems. Iran's daily gas exports to Iraq are to reach 35 million cubic meters at the final stage.
Tehran and Baghdad signed a deal on the exports of natural gas from the giant South Pars Gas Field in 2013.  Under the deal, the Iranian gas is delivered to Sadr, Baghdad and al-Mansouryah power plants in Iraq through a 270-kilometer pipeline.