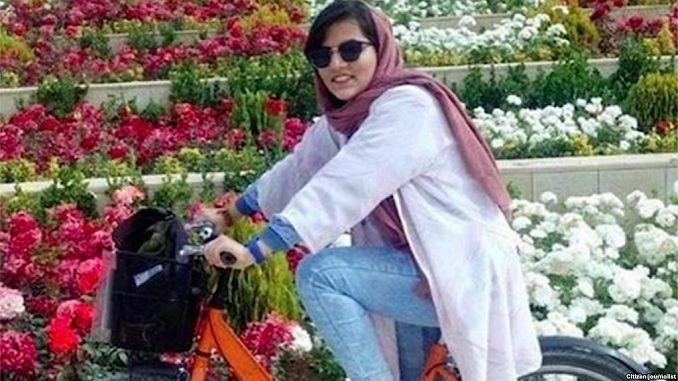 Iran's Supreme Leader Ayatollah Ali Khamenei has reaffirmed a fatwa declaring that women are forbidden to ride bicycles in public and in the presence of strangers that are not part of their immediate family, Radio Farda reported on Monday.
The daily Vaqaye' Itiffaqqiye, citing a member of Khamenei's so-called fatwa office, had reported back in August 2016 that "from the ayatollah's point of view, women are only permitted to ride motorbikes or bicycles so long as it does not attract strangers or lead to corrupt behavior. Therefore, women should contemplate where and in what situation they will ride a bicycle. If they respect the said points, then riding bicycles for them would be permissible."
"Therefore, women should contemplate where and in what situation they will ride a bicycle. If they respect the said points, then riding bicycles for them would be permissible," the statement added.
President Hassan Rouhani's deputy for women affairs, Shahindokht Molaverdi, confirmed the guidelines shortly after the announcement.
"According to the supreme leader's office, riding bicycles by women is permissible, provided they respect the principles of shari'a law," she said.
However, ultra-conservative outlets continue to refer to comments made by Khamenei 21 years ago at a meeting with the staff of the Physical Education Organization, in which he insisted that "it is improper for girls to ride bicycles on the streets of Tehran. And ostentation and attracting strangers is also forbidden for women in sports."
Activists have since tried to protest the gender-discriminating policy by initiating a "Tuesdays Without Vehicles" campaign, but the whole campaign was aborted when Sunni Friday Prayer leader in the mainly Kurdish-populated city of Marivan stepped in and bitterly attacked the initiative. Consequently, many Marivani women were detained while riding bicycles in support of the Tuesdays Without Vehicles campaign.
A group of women in Tehran, carrying banners, citing Khamenei as saying, "Women riding bicycles is legal as well as religiously legitimate", unsuccessfully tried to revive the campaign.
Iran is not the only country facing the question of women riding bicycles and motorbikes. In many third-world countries, women riding bicycles are described as infamous, outcasts, and untouchable. Based on a myth in Tajikistan, girls are told they could lose their virginity if they fall off while riding a bicycle and then finding a husband would be much more difficult.
The fatwa sparked a social media movement of women posting pictures of themselves riding bikes. The Independent reported in September 2016. Earlier that month, Khamenei had said that a woman's role in society should be limited to "motherhood and housekeeping."
Women participating in the My Stealthy Freedom social media movement are protesting against discriminatory laws in Iran, including those that force women to wear the Muslim head covering known as the hijab.
Appearing on the Facebook page of a group called My Stealthy Freedom, the video shows a woman explaining that when they heard about the fatwa, they "immediately rented two bicycles to say we're not giving up cycling." She added, "It's our absolute right and we're not going to give up."
The Facebook page, which promotes women's rights, has been collecting a bunch of images of similarly defiant women, each with a different story to tell.
Since May 2016, signs have appeared prohibiting women from cycling in certain areas and, according to The Independent, police officers have previously said that women breaking the bike-riding rules would be prosecuted. One such rule-breaker said on social media:
"In order to be able to lead an ordinary life, I, as a woman, have to engage in a daily 'war.' Am I a criminal because I love life and I love cycling?"
Mashable reported that Iranian women have also taken to Instagram and adopted the hashtag #IranianWomenLoveCycling, posting pictures of themselves defying the ban.
Despite President Rouhani pledging to improve the freedoms of the citizens of Iran, international observers have observed that the human rights situation in the Islamic Republic continues to deteriorate.
A report issued by Britain's Foreign and Commonwealth Office in July observed that the human rights situation in Iran "worsened, despite President Rouhani pledging to improve the rights and freedoms of the citizens of Iran when he was elected." The report noted that a couple of bills being considered by Iran's parliament are set to further erode women's rights.