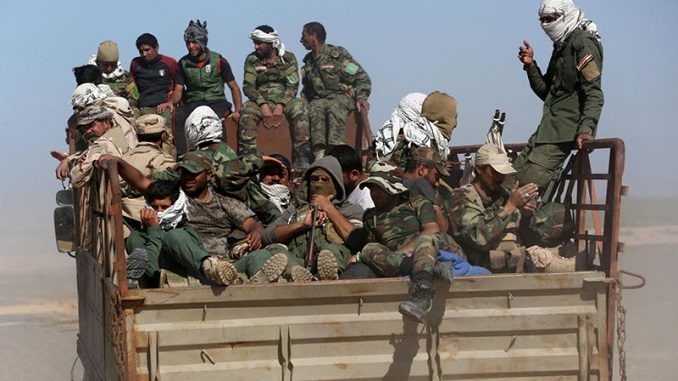 Much to the dismay of Iraqi Prime Minister Haidar al-Abadi, Hezbollah Secretary General Sayyid Hassan Nasrallah arranged for hundreds of ISIS fighters from Syria and Lebanon to be deported to border areas between Syria and Iraq, Iran Freedom reports. It was all part of a deal that raised plenty of suspicions about Hezbollah's "credibility." This aroused suspicion about Hezbollah and the Iraqi Prime Minister was not happy about the deal because of the battles against ISIS in Iraq.
This was not the first time Abadi has been undermined by Nasrallah. The U.S. is preoccupied especially as tensions with North Korea are escalating. Europe is busy with pursuing ISIS while the Gulf is trying to shield itself from threats. Nasrallah thus feels that Lebanon is its open arena away from the eyes of superpowers and it's about to carry out its plan to bring hundreds of Iraqi Shi'ite militiamen to Lebanon. According to Iraq's law, these militias are under Abadi's power.
The Iraqi militiamen have started to train in Hezbollah camps in Beqaa and the South and they will settle there to work for Hezbollah on a permanent basis. Over the past few years, it has been discovered that the Iranian Quds Brigade, which is affiliated with the Revolutionary Guards, is sponsoring Hezbollah to train Shi'ite fighters and then sends them to Yemen and Syria to fight. It seems the plan for 2017 and 2018 is to integrate these fighters in Hezbollah's units in Lebanon for good. There they will impose a new culture and mentality on the Lebanese people.
Some militiamen who came to Lebanon belong to the Popular Mobilization. They represent an official military power that is under the command of the Iraqi prime minister. However, these militiamen's activity in Lebanon contradicts with Abadi's policy in Baghdad. It's of course not Abadi behind this move but Iran which controls all Iraqi Shi'ite militias and Afghan and Pakistani mercenaries and deploys them in battlefields in Arab countries.
Hezbollah has been fighting alongside Iran in Syria for years. Some experts believe that at one stage Hezbollah had a third of its troops in Syria and lost around 1,500 of its 6,000 men. It has also been estimated that a thousand suffered injuries that will prevent them from fighting again. To add to this, the group has severe financial difficulties that it has been inflicted with since participating in the war in Syria. Hezbollah's secretary general is still losing fighters and money as a result of Iran's war in Syria. However, and as he always says, he can always rely on his Iranian sponsor.
With the arrival of these huge numbers of men, Lebanon is set to face another challenge. The Lebanese people have been suffering for 70 years now, ever since Palestinian refugees arrived in the country. Their numbers increased over the years and reached around half a million. They still lack proper legal rights and their camps now harbor terrorism. Take the threat of the Ain al-Hilweh refugee camp as an example. Then more than 1.5 million Syrian Sunni refugees came to Lebanon.
The economic burden of these people is crippling and unemployment and infrastructure is in a terrible state. Security and stability is at a low.
Lebanese officials and many Lebanese people voiced their rejection as they felt these fighters who are in Lebanon will stay here. Hezbollah quickly calmed down the situation and said Nasrallah's statements fall within the context of anti-Israel propaganda. Truth is Nasrallah does not make empty threats. He first tests the circumstances, and he also does not quit what he's doing as he counts on others to eventually give up and submit.