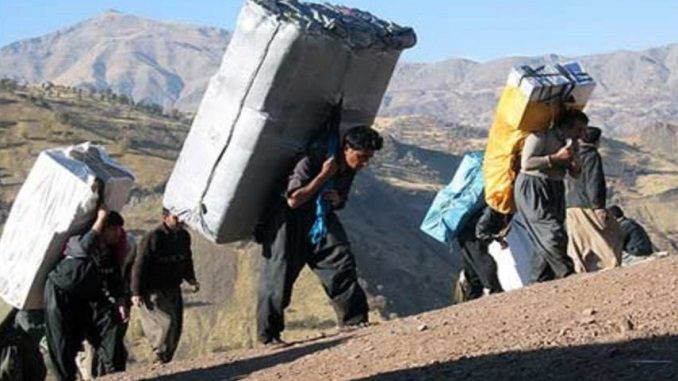 The number of intercepted consignments worth more than 5 billion rials (roughly $150,000) smuggled into Iran showed a 57 percent increase during the past five months compared with the same period last year, the commander of the Iranian Police Crime Unit has reported.
During the same period, the number of legal cases filed for the uncovered and confiscated smuggled consignments worth between 1 billion and 5 billion rials also showed a 50 percent increase, the government's official news agency (IRNA) quoted Commander Mohammad Reza Moghimi as saying.
"Computer equipment, cosmetics, and hygiene products were at the top of the list of contraband goods smuggled into Iran," Moghimi said.
Fundamental action is needed to prevent and confront the flow of contraband oil products into Iran, he emphasized.
"During the first five months of the [Iranian calendar year, starting March 21] current year, nearly 20 million liters of illegal oil products were uncovered, which shows a 53 percent rise compared with the same period last year."
Furthermore, according to Moghimi, the number of uncovered contraband inflammable and explosive products also showed a 27 percent rise. Fighting against contraband goods and smuggling foreign currencies is the police's priority. Fighting organized smuggling and concentrating on larger contraband consignments are also on our agenda," he said.
Announcing the establishment of a special center for fighting smugglers in the Police Crime Unit, Moghimi notes: "The special center's main duty is monitoring and tracking major smugglers, stopping the flow of contraband products into Iran, and fighting the storing and circulating of illegal goods in the country."
However, in 2016, the overall volume of goods smuggled into Iran amounted to $15.5 billion, according to Qassem Khorshidi, spokesman for Iran's Central Task Force to Combat the Smuggling of Commodities and Currency, cited on Tasnim News website. That number has now shrunk by almost $3 billion, he said. Later, a senior member of Iran's parliament accused the government of President Hassan Rouhani government of being involved in smuggling.
"A number of governmental institutions are directly or indirectly involved in smuggling," Hassan Norouzi, spokesman for the parliament's Judiciary Committee, maintained on July 1.
In an interview with Fars News Agency (FNA), Norouzi added that some ministers are involved in smuggling to run companies and factories. Not mentioning any names, Norouzi also accused the daughter of a Rouhani cabinet minister of smuggling.
The spokesman for the Judiciary Committee was apparently referring to Rouhani's education minister, Fakhruddin Ahmadi Danesh-Ashtiani, whose daughter was accused of smuggling Italian contraband garments into Iran. She was later officially acquitted of all charges. Earlier in 2011, then President Mahmud Ahmadinejad accused the IRGC of using its military ports to smuggle cigarettes into Iran.
"The value [of cigarettes smuggled into Iran] makes any first-class international smuggler greedy, let alone our very own Smuggler Brothers."
IRGC Chief Commander Major General Mohammad Ali Jafari retorted back: "These accusations are made to deviate the public's mind by people who are beneficiaries themselves in our opinion."
According to Iranian officials, there are 150 customs points across Iran through which a significant amount of contraband goods illegally pass.