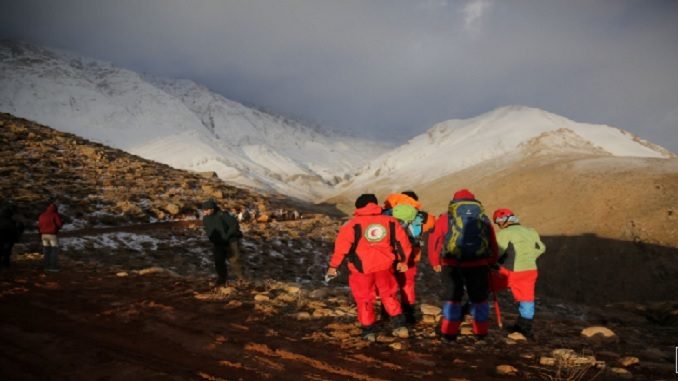 All passengers and crew onboard an Iranian commercial flight died after the plane crashed amid severe weather conditions in a mountainous region in the south of the country, state television reported on Sunday, The Guardian reports.
Aseman Airlines flight 3705, en route from Tehran to the southern city of Yasuj, the capital of the impoverished province of Kohgiluyeh and Boyer-Ahmad, went off radar 50 minutes into its journey, not far from its destination. The twin-engine turboprop ATR-72 plane, which was 20 years old, left the Iranian capital at 8:05 am local time on Sunday for a 350-mile (560km) internal journey, officials said.
Capt Hojjatallah Foulad, a veteran pilot, was believed to be among the dead. In 2013, he saved the lives of his passengers by making an emergency landing at Yasuj airport after an engine failed while flying the same type of ATR commercial plane. An Iranian news website said the plane had recently rejoined the air fleet after seven years of undergoing repairs.
"The plane which crashed today faced technical problems midair during a recent flight a few weeks ago," Roozarooz news reported.
Local media published the full names of everyone onboard, but officials from the country's aviation agency said they could not confirm the identities before recovering the bodies. A child was among those believed to have been killed. The airline had also initially said 60 passengers and six crew were on board the twin-engined turboprop ATR 72 that was flying to the southwestern city of Yasuj. But it later said there were a total of 65 people on board, as one passenger had missed the flight.
Severe weather conditions, including heavy fog, hampered search and rescue operations, which meant helicopters could not fly over the crash site, believed to be in the Zagros mountains near the city of Semirom, in neighboring Isfahan province.
A passenger killed in the deadly Iranian commercial plane crash on Sunday reportedly channeled his faith just moments before takeoff, sending his girlfriend one last text.
"May God protect us to arrive safe," the unnamed passenger wrote to his girlfriend, also sending a photo of the ATR-72 jet's propeller, according to an ARD German Television correspondent.
One man who missed the flight told Iran's Tabnak news agency, "God has been really kind to me but I am so sad from the bottom of my heart for all those dear ones who lost their lives."
The wreckage of the plane that crashed in Iran on Sunday has been found, local media are reporting. Officials from the region told news channels rescuers had reached the site. Both channels – IRINN and English-language Press TV – said they could not confirm the reports independently.
It is an ATR 72, which belongs to a French-Italian company operating regional flights. This particular model, according to Russian Today, began to be manufactured in 1980 and is new to Iranian airlines. The country has signed an agreement to buy 20 similar aircrafts in 2016 and only last year received the first.
State television said helicopters were now able to take part in the search for Aseman Airlines flight EP3704 after the weather improved following blizzard conditions that had hampered search efforts on February 18.
The crash site is about 22km (14 miles) from Yasuj, Iranian media reported, in the Mount Dena area, close to the city of Semirom in Isfahan province. Unfortunately, all passengers and crew were found dead. The investigation continues for the search of the black box in order the investigators to find out what was the cause of the crash.
Some 100 mountaineer rescue workers were deployed on February 19, state television said. France's air safety agency, BEA, said it would take part in the investigation led by Britain's Air Accidents Investigation Branch.
A combination of human error and severe weather is being blamed for the loss of 65 passengers and crew on board a domestic flight in central Iran. Aviation safety specialist David Learmount told Al Jazeera the crash was caused by a "failure of navigation".
"An airplane hitting mountains in clouds is like a ship hitting rocks," he said.
Other aviation specialists said the plane may have hit the mountains as it descended. But the airline has blamed the weather on the crash.
Decades of international sanctions have left Iran with an aging fleet of passenger planes which it has struggled to maintain and modernize. It has suffered multiple aviation disasters, most recently in 2014 when a Sepahan plane crashed killing 39 people.
Aseman currently has a fleet of 36 planes – half of them 105-seat Dutch Fokker 100s. Its three Boeing 727-200s are almost as old as the Islamic revolution, having made their first flights in 1980. Lifting sanctions on aviation purchases was a key clause in the nuclear deal Iran signed with world powers in 2015. Following the deal, Aseman Airlines finalized an agreement to buy 30 Boeing 737 MAX jets for $3.7 billion last June, with an option to buy 30 more.
However, the sale could be scuppered if U.S. President Donald Trump chooses to reimpose sanctions in the coming months, as he has threatened to do. Boeing, which is also building 80 planes for national carrier Iran Air, faces heavy criticism from U.S. lawmakers who say Iranian airlines have been used to ship weapons and troops to Syria and other conflict zones. The U.S. Treasury Department approved the sale of the 80 Boeing jets as well as 100 Airbus planes to Iran Air. The first few Airbus jets have already arrived in Tehran.