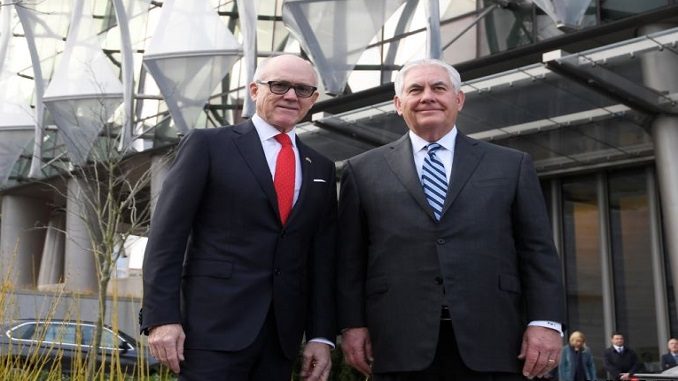 U.S. Secretary of State Rex Tillerson is due to meet on January 22 with top British officials in London, the first leg of a nearly week-long trip to Europe that will also take him to Paris, Warsaw, and the World Economic Forum in Davos, Switzerland, RFERL reports.
An official has said that Iran would dominate Tillerson's meetings with U.S. allies. The trip comes amid behind-the-scenes negotiations over the fate of a landmark agreement to curb Iran's nuclear program in exchange for easing crippling international sanctions targeting Tehran.
"As you know, we really emphasize close coordination with the British in particular and the French in our efforts to close the gaps in [the agreement] and in [the] next steps on how we curtail Iranian malign influence in the region," a State Department official told reporters on January 19. "So I think that'll be a very high priority in his conversations."
Earlier this month, U.S. President Donald Trump said that he wanted to work with European allies and Congress to fix what he called "disastrous flaws" in the 2015 Iran deal signed under his predecessor, Barack Obama. Trump warned that Washington would withdraw from the deal if it is not strengthened within four months.
Tillerson left Washington as the government shutdown enters its second day. The State Department says he's conducting foreign relations that are essential to national security.
The official said Tillerson's intent is "to close the gaps" in the accord that gave Iran billions in sanctions relief in return for curbs on its nuclear program, and to explore more ways to counter Iranian behavior in Syria, Lebanon and Yemen. The official was not authorized to publicly discuss Tillerson's plans before the trip, and spoke to reporters on condition of anonymity.
Tehran has ruled out any changes in the agreement, while the other signatories — Britain, France, Germany, China, and Russia — have closed ranks in support of the accord. Britain, France and the other European party to the accord, Germany, have expressed some willingness to work with the U.S. to prevent the pact's collapse by discussing measures that would supplement its conditions.
A U.S. withdrawal probably would scrap the agreement, a chief foreign policy achievement for President Barack Obama, by reimposing a broad range of sanctions that isolate Iran from the international financial system. Iran has said it will no longer be bound by the terms of the deal if that happens.
Ahead of a meeting of European Union foreign ministers in Brussels, French Foreign Minister Jean-Yves Le Drian said on January 22 that Trump's demands "sometimes look like ultimatums." Le Drian also said that EU ministers would stay "firm" on the need to preserve the agreement, which the minister called "an essential element" of global efforts against nuclear proliferation.
Iran insists its nuclear program is only for peaceful purposes, while the United States and other countries claim it has been trying to develop nuclear weapons.
In London, the secretary of state visited the new U.S. Embassy, which opened last week. Trump had been expected to preside over the opening ceremony for the embassy but the president dismissed that idea, citing the billion-dollar cost of the diplomatic mission, among other things.
The decision to move the embassy was made by President George W. Bush's administration in 2008 after it determined the old facility in Grosvenor Square had uncorrectable security issues. The new embassy was constructed with the proceeds from sales of U.S. government properties and leases in London. The new embassy, in the former industrial area of Nine Elms on the south side of the River Thames, opened its doors on Jan. 16 but is still not 100 percent operational and will not be ready for a grand opening while Tillerson is in London, the official said.
The State Department said Tillerson would also hold talks with U.K. Prime Minister Theresa May, national security adviser Mark Sedwill, and Foreign Secretary Boris Johnson to discuss cooperation on Iran, Syria, Libya, North Korea, and Ukraine.
From London, Tillerson will travel to Paris on January 23 for talks on many of the same subjects with Le Drian. In an interview to be published on January 22, the French minister said he would visit Iran on March 5 to discuss Tehran's ballistic-missile program and the 2015 nuclear deal.
After Paris, Tillerson will spend two days in Davos shadowing Trump at his first visit as president to the annual economic forum. By January 26, he will be in Poland for more talks with senior officials on security and economic matters.