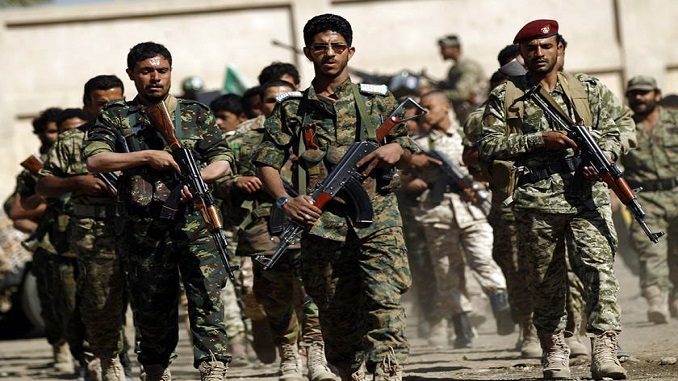 Following the progress that the Yemeni army made supported by popular resistance in Hodeidah, navigational sources in the port of Hodeidah revealed that Tehran evacuated 40 military advisers from the area along with UN workers in Yemen, Al Arabiya reports.
Prior to this, Tehran had evacuated its embassy employees from Sana'a following the intense battles between Houthi militias and the General People's Congress Party (GPC) forces in the Yemeni capital last week. The evacuation of Iranian advisers along with UN workers took place three days ago through the Hodeidah port which is controlled by the militia.
Sources at the port confirmed that the operation was done very discretely so as not to attract any attention. More notably, the decision to evacuate the Iranian advisers closely followed the killing of Iranian missile expert Hussein Khasrawy, who was killed on Saturday in a coalition raid in Sana'a.
Media sources said that the embassy employees were evacuated from Sana'a to Muscat, after the embassy building was exposed to an air raid during a battle between the Houthis and GPC forces last week.
Meanwhile, Houthi militias are still being clamped down in the west coast of Yemen, with national army and coalition forces fast approaching the city of Hodeidah. Iran News Updates also reports of a death of Iran regime's missile expert during an air raid by coalition forces in Yemen. The newshub confirmed the death of Iranian missile expert, Hussein Khasrawy, during an air raid by coalition forces on Saturday in the district of Arhab in Sana'a.
Meanwhile, Yemeni armed forces arrived at their third district in Hodeidah west of Yemen amidst a notable and strategic advancement for the third day in a row. This progression is heavily backed by Arab-led coalition fighters led by Saudi Arabia, in the midst of a rapid fallback of the Houthi militia.
The official Yemeni news agency confirmed that the Yemeni army was able to regain control of the Hays, al-Khokha triangle on Saturday evening, and began to enter the directorate of al-Tahita, the third district of Hodeidah.
The news agency quoted army sources saying that the national army has seized the district of Hays which is only 10 kilometers away from al-Khoukha. The sources also confirmed regaining control of farms and roads in northers Hays.  According to sources, the army has also entered the coastal directorate of al-Tahita and reached the al-Fazah farms in rural Zabid.