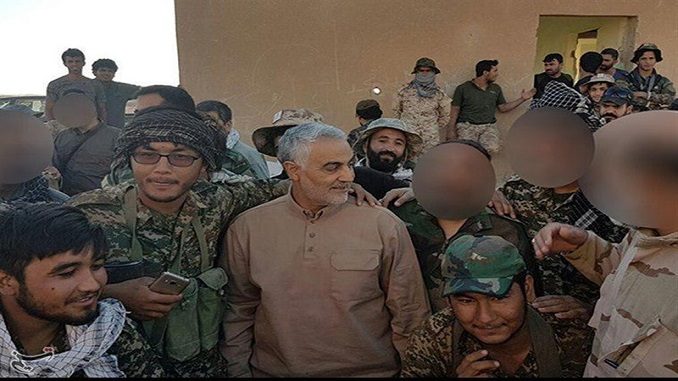 The all-Afghan Fatemiyoun Brigade that fights in Syria, has made major gains in a massive operation against ISIS terrorist group in Deir ez-Zor province, the commander of the brigade said.
Speaking to the Tasnim News Agency, the commander pointed to recent operations of the Syrian army and its allied resistance forces against Takfiri terrorists and said the Fatemiyoun Brigade, as part of the resistance forces, is advancing toward the strategic district of Al-Mayadeen in Deir ez-Zor.
He further pointed to ISIS terrorist operations to prevent the liberation of al-Mayadeen and said the terror group' situation is like that of "a cat that is in a cage, climbing and clinging to anything to save itself but there is no way to escape and it will be destroyed."
The commander also dismissed as "a sheer lie" some reports that the resistance forces have been under siege by ISIS, saying the terrorists have not surrounded even a single resistance fighter.
He further said all forces of the Fatemiyoun Brigade, the resistance fighters, and the Syrian army have come together to liberate Al-Mayadeen and fully eliminate the terrorist group and ensure the security of holy shrines in Syria.
The Fatemiyoun Brigade gained notoriety few days ago after Human Rights Watch informed that Iran's Islamic Revolutionary Guards Corps (IRGC) has been recruiting Afghan immigrant children living in Iran to fight in the conflict in Syria.
The New York-based rights advocate said in a statement released on October 1 that Afghan children as young as 14 have fought in the Fatemiyoun division, an exclusively Afghan armed group supported by Iran that fights alongside government forces in the Syrian conflict.
"Iran should immediately end the recruitment of child soldiers and bring back any Afghan children it has sent to fight in Syria," Sarah Leah Whitson, Middle East director at Human Rights Watch, said in the statement.