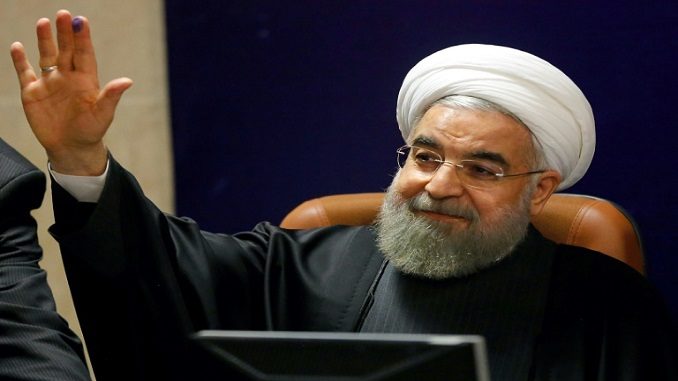 President Hassan Rouhani has said Iran is ready to restore its relations with Saudi Arabia if the kingdom ends its misguided "friendship" with Zionism. The Islamic Republic would "have no problem" with Saudi Arabia if it stops "bowing to Israel" and relies on itself, Rouhani said at a parliamentary meeting.
"We want Saudi Arabia to stop two things, the misguided friendship with Israel and the inhuman bombardment of Yemen," he stressed.
Yemen has been grappling with a humanitarian disaster since Saudi Arabia led a military aggression against the country in March 2015. Saudi Arabia cut diplomatic ties with Iran in early 2016 in protest against the attacks against Saudi diplomatic missions in Iran following the Saudi execution of a Shiite cleric. The firing of a ballistic missile at Riyadh by the Houthis in November led to renewed tensions between Saudi Arabia and Iran.
The Iranian president also took time out to comment on U.S. President Donald Trump's decision regarding Jerusalem.
"After regional powers' conspiracy to let terrorist groups dominate the oppressed people in the region was defeated, the Americans today have launched a new plot with the help of the Zionists, which is an aggression on the sacred Quds. We were not, are not and will not be silent in the face of the conspiracies of the big powers, the U.S., the arrogance and the Zionism," Rouhani said.
Saudi Arabia launched intensive military campaign against Yemen with the aim of eliminating the Houthi Ansarullah movement and reinstalling former President Abdrabbuh Mansour Hadi, who has close ties with the Saudis. Failing to achieve either of its goals, Riyadh has not stopped bombing Yemeni targets, creating a protracted conflict which led to the killings of over 12,000 Yemenis and the destruction of the poor country's infrastructure.
Iranian Foreign Minister Mohammad Javad Zarif wrote a letter to the UN Secretary General Antonio Guterres in November, suggesting that it is essential that the international community gets more involved in ending the "senseless war" on Yemen.
Rouhani's remarks came amid media reports that Riyadh has been seeking closer ties with Israel in a bid to counter the rising influence of Iran, a common enemy to Saudi and Israel. On November 25, Saudi Crown Prince Mohammed Salman compared Iran's growing regional influence to Germany's hegemonic policies in the Hitler era.
"We learned from Europe that appeasement would not work. We do not want the new Hitler of Iran to repeat what happened in Europe in the Middle East," he said.
As Saudi Arabia and Iranian relations bifurcate further, Israel has used this as an opportune moment to capitalize on shared mutual hostility towards the Shi'ite regime. Whilst Saudi Arabia categorically denies any presence of covert ties, Israel has hinted at an emerging relationship on numerous occasions.
Gadi Eizenkot, Israel's Defense Force Chief of Staff, stated that Saudi Arabia and Israel are in "complete consensus" about their mutual arch-rival Iran, and that Israel is ready to share intelligence. Whilst Israeli Energy Minister Yuval Steinitz admitted to having contacts with the Kingdom, stating that it was "the other side that is interested in keeping the ties quiet."
Saudi Arabia does not recognize Israel, but the two countries have a shared interest in countering Iran.