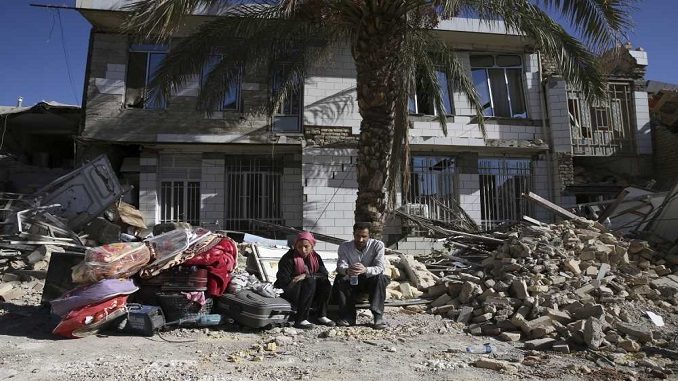 Exhausted and exposed to freezing cold, survivors of a weekend earthquake in western Iran begged authorities for food and shelter on Tuesday, saying aid was slow to reach them, Reuters reports. Iranian officials called off rescue operations earlier in the day on the grounds that there was little chance of finding more survivors from the quake, which killed at least 530 people and injured thousands of others.
Iran has so far declined offers of foreign assistance to deal with the aftermath of the tremor, which officials said damaged 30,000 homes and completely destroyed two villages.
"We are hungry. We are cold. We are homeless. We are alone in this world. My home is now a pile of mud and broken tiles. I slept in the park last night. It is cold and I am scared," a weeping Maryam Ahang, who lost 10 members of her family in the hardest hit town of Sarpol-e Zahab, told Reuters by telephone.
Leader of the Islamic Revolution Ayatollah Seyyed Ali Khamenei has urged Iranian officials to continue their practical and serious efforts to help alleviate the suffering of those affected by a strong earthquake in the west of the country. In a meeting with the heads of the three branches of the Iranian government and a number of authorities on Tuesday, Ayatollah Khamenei expressed his deep sorrow over the "very bitter incident" in Kermanshah Province.
Kermanshah, an almost entirely Kurdish province nestled in the Zagros Mountains that run along the border with Iraq, suffered all of Iran's fatalities from the temblor Sunday night that shook 14 of the country's 31 provinces. Both rescuers and local residents alike stood atop the remains of apartment complexes Tuesday, looking through the rubble. They used heavy blankets to carry away corpses. President Hassan Rouhani arrived in Kermanshah province on Tuesday to see the damage for himself and offer his support to those affected.
"This was a pain for all Iranians. Representing the nation of Iran, I offer my condolences to the people of Kermanshah, and tell them that all of us are behind Kermanshah," Rouhani said, according to a statement on the presidency's website.
Night-time temperatures in Kermanshah province fell close to freezing for the second night in succession. Ali Gulani, 42, lives in the province's badly-hit town of Qasr-e-Shirin, and told BBC Persian people were burning crates to try to stay warm.
"We are living in a tent and we don't have enough food or water," he said. "You can hear children crying, it's too cold. They are holding on to their parents to warm themselves – it's pretty bad."
Iranian state TV said thousands of survivors had spent another night in makeshift camps or in the open. One aid agency said 70,000 people needed shelter and the UN said it was "ready to assist if required".
"It is a very cold night… we need help. We need everything. The authorities should speed up their help," one homeless young woman in Sarpol-e-Zahab, where most of the victims died, told Reuters news agency.
Frustration is boiling over as earthquake survivors sleep outside in freezing temperatures, waiting for much-needed aid to reach devastated areas of Iran.
"People here have nothing, nothing. No tents, no blankets, no food. There's nothing here. People are facing very tough conditions here. It's a crisis situation," one resident of Sarpol-e Zahab, a town in Iran's western Kermanshah Province that has been described as among the worst hit, told a journalist reporting from the scene. Meanwhile a spokesman for the entity handling the response to the quake, Behnam Saidi, said search operations were "reaching their end." In a video by the news agency of the state broadcaster IRIB, posted by Shargh Daily, an unidentified man said that "water, gas, electricity — they all have been cut. We have nothing, and no official has come here."
The hard-line Fars news agency posted a video of angry residents in Sarpol-e Zahab, complaining of what they described as a lack of attention and news coverage of their plight. It separately posted an interview with a resident of Kermanshah who said he and his family had not eaten for two days.
"Those who died are under the rubble. Please help those who are still alive…. We're adults. What about my kids? They'll perish," the man said.
The semi-official Tasnim news agency quoted residents of Kermanshah Province's Salas-e Babajani county as saying that, 40 hours after the quake, debris had yet to be removed.
"We don't have tents," one man said. "We slept on the ground in the cold," another said.
Iran's Red Crescent said thousands of people had been provided with emergency shelters, but that the delivery of aid was being hampered by blocked roads.