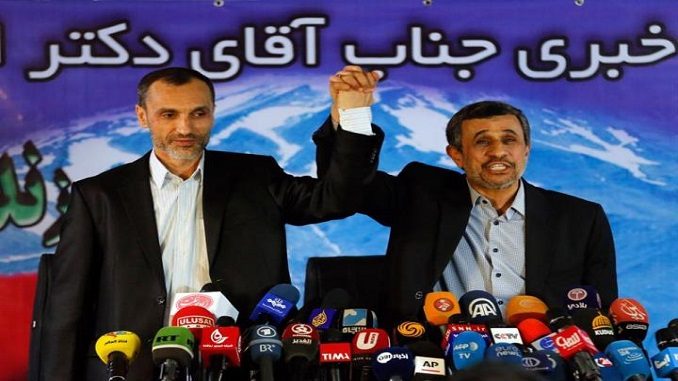 An Iranian official said EUR 3.7 million and $530,000 were embezzled from the accounts of non-aligned countries, during a summit five years ago, which was also during the term of former Iranian President Mahmoud Ahmadinejad, the Islamic Consultative Assembly News Agency reported.
Mohammed Ali Bourmukhtar, member of the judicial committee at the Iranian parliament, held Ahmedinejad's aide Hamid Baghaei responsible and said the latter had the money.  Bourmukhtar also accused Baghaei of hiding huge sums of money outside Iran and of having "ties to spies" and "committing legal violations."
These accusations come amid the conflict between different Iranian movements as a group of men affiliated with Ahmedinejad is being tried on corruption charges under head of the judicial system Sadeq Larijani who is close to Khamenei.
There are widespread speculations that corruption when Ahmedinejad was in power was astronomical; otherwise how could the country be in dire economic shape when from 2005-2013 oil prices were high and Iran exported close to $750 million of oil.
On July 30, the head of the court announced seven verdicts against Ahmadinejad but the full report was not made public. At the time, the former president dismissed the charges and threatened to disclose a "cowardly scenario" by "bands of power and wealth." He alleged that a "cabal" was waging war against the former leading officials of his administration.
One of them, Hamid Baghaei was arrested and kept in prison for months in 2015 on unidentified charges. Baghaei was again behind bars over corruption allegations from July 9 of this year until his release on bail on July 26.
Later information snowed Baghaei was first arrested for embezzlement but, according to Ahmadinejad close allies, he was later freed by the Supreme Leader, ayatollah Ali Khamenei's special order. Once again, last July, Baghaei was detained but later released on a huge bail.
Baghaei, Ahmadinejad and former vice president Esfandiar Rahim Mashaei slammed Larijani and described the Iranian judiciary as "unjust."
Hamid Baghaei, Ali Akbar Javanfekr and Habibollah Khorasani have used the old tactic of "bast neshini" or taking refuge in a sanctuary to protest what they have described as judiciary's politically motivated decisions against them.
Ahmadinejad and his allies have long been maintaining that the Islamic Republic's head of judiciary or Chief-Justice, ayatollah Sadeq Amoli Larijani and his four brothers are attempting to dominate Iran through elimination of all "real Revolutionary forces," including the former president and his close companions.
Figures close to Ahmadinejad said the judiciary is paving way to impose some sort of ban on him, like the case is with former president Mohammad Khatami or sentence him to house arrest. There is also a conflict over corruption cases between President Hassan Rouhani's movement, which is affiliated with the moderate and reformist wing, and Larijani.
These conflicts emerged when millionaire Babak Morteza Zanjani, who is detained and sentenced to death over corruption charges, revealed that Rouhani was given money to fund his electoral campaign in 2013.