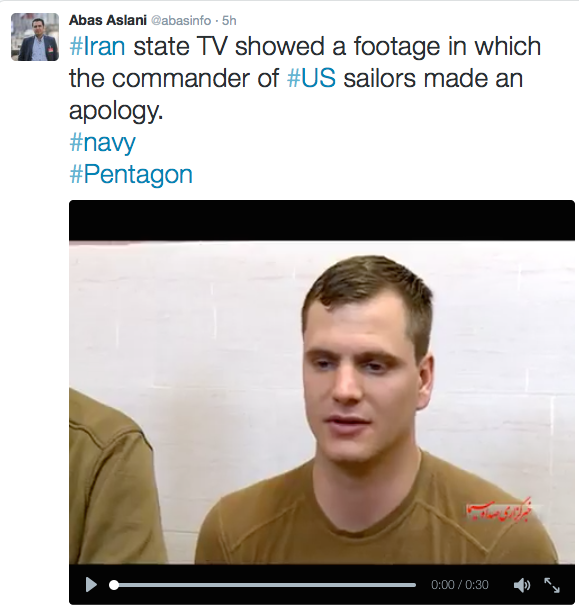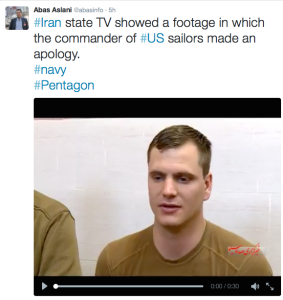 Iran Flouts Geneva Convention Using Captives for Propaganda
January 13, 2016: The Islamic Republic of Iran Broadcasting released footage on Wednesday of the detainment and captivity of US sailors hours after the Americans were finally released by Tehran.
The state propaganda put forth in the video was amplified over social media. Abas Aslani, Director of World and Foreign Policy for the Iranian Tasnim News Agency, tweeted clips of brief interviews with the sailors being held in custody.
"It was a mistake, it was our fault and we apologize for our mistake," one US Marine said on camera.
In another clip, a journalist asks how the Iranians acted towards the captives after the arrest and throughout detainment. The US sailor stated, "Iranian behavior was fantastic while we were here, we thank you very much for your hospitality and your assistance."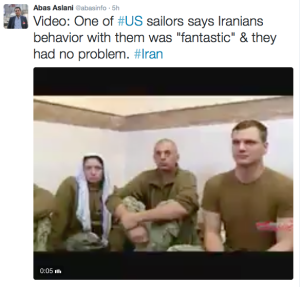 The video shows the IRGC boarding the American ship and arresting the sailors, along with extensive footage aimed clearly at promoting pro-Iranian, anti-US propaganda that the IRIB often endorses with its messaging.
As a state monopoly, the IRIB has a troubling history; consistently accused by the international community of directly violating human rights by its actions, the US sanctioned it originally in February 2015 for jamming of international satellite broadcast signals. The company also has a history that includes "filming and broadcasting coerced confessions by detainees", which certainly calls into question the legitimacy of statements made by any party that that may interview.