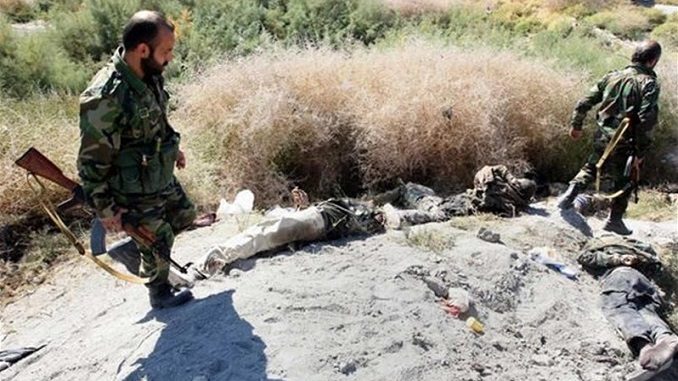 Iranian's Revolutionary Guard says it has killed four "terrorists" in a shootout near the Turkish border. Tasnim News Agency reports the clashes took place late Wednesday in the town of Chaldoran, in the northwest Azerbaijan province.
It says the troops confiscate arms and communications equipment. According to the public relations department of the IRGC's Hamze Sayyid al-Shohada Base, the terrorist team had infiltrated into Chaldoran region on Wednesday night and killed two local residents. It did not provide the affiliation of the group.
"The IRGC forces seized weapons, communication equipment and ammunition from the terrorists," the statement said.
The statement underlined the IRGC forces' full preparedness and intelligence superiority, in coordination with other security and Armed Forces, to give a crushing response to any attempts by enemies to foment insecurity in Iran. In a relevant development on Monday, the intelligence minister declared that the Iranian security forces have arrested a number of terrorists who intended to carry out operations during the mourning ceremonies across the country earlier this month.
"A small number of people (terrorists) were identified and arrested by the intelligence ministry and intended to carry out actions against our security" and their plots were foiled, Iranian Intelligence Minister Seyed Mahmoud Alavi said on Monday.
Noting that the terrorists intended to conduct anti-security operations in different provinces, he explained that they were not acting as a team and were active personally. He said the terrorists planned to hit the mourning crowd during lunar month of Moharram, September 22- October 20, when people in Iran mourn the martyrdom anniversary of Imam Hossein (AS), the grandson of the prophet and the second son of Shi'ite Islam's first Imam Ali Ibn-e Abitaleb.
There has been a surge in the number of the counter-terrorism operations the IRGC has launched in recent months. In August, the IRGC dismantled another terror group in West Azarbaijan Province that had sought to enter Iran with the purpose of conducting acts of sabotage and terror.
Security forces operating in the mountainous region along the borders of Iraq, Turkey and Iran have clashed with Kurdish separatists and Islamic militants in the past. The IRGC is tasked with protecting the country's northwestern and southeastern borders. Iran has arrested dozens of terrorists since twin terrorist attacks in the Iranian capital, Tehran, on June 7, when 17 people were killed and 50 others were injured.
Back then, gunmen almost simultaneously attacked Iran's Parliament and the Mausoleum of the late Founder of the Islamic Republic, Imam Khomeini. The Takfiri Daesh terrorist group claimed responsibility for those assaults.