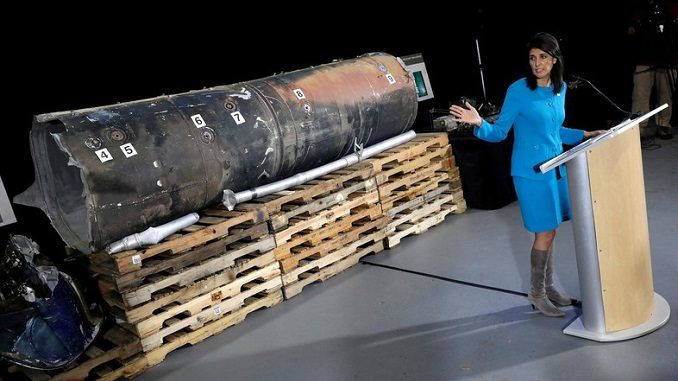 U.S. Ambassador to the United Nations Nikki Haley says it is "time for the Security Council to act" following the release of a UN report finding that Iran violated a UN arms embargo on Yemen's Huthi rebels, Al Arabiya reports.
"This report highlights what we've been saying for months: Iran has been illegally transferring weapons in violation of multiple Security Council resolutions," Haley said late on February 15.
The report by a UN panel of experts last month found that Iranian ballistic missiles and other weapons were introduced into Yemen after an embargo against arming Yemen's Huthi rebels was put in place in 2015, and that Iran failed to take measures needed to prevent those weapons from reaching the rebels.
The report by UN experts concluded that Iran was thus in violation of the arms embargo. Iran is also prohibited under a separate UN resolution from transferring weapons unless the security council approves it.
"The world cannot continue to allow these blatant violations to go unanswered," Haley said. "Iran needs to know that there are consequences for defying the international community. It's time for the security council to act."
UN diplomats have said the report finding Iranian arms embargo violations is likely to be addressed in a resolution renewing the Yemeni arms embargo that the council will consider later this month. Haley has repeatedly pushed for Security Council action against Iran, inviting UN ambassadors that sit on the council to view what the United States maintains is evidence that Iran's ballistic missiles were used by the Huthi rebels to launch attacks against Saudi Arabia several times last year.
Iran denies supplying weapons to the Huthis, despite openly backing the Shi'ite rebels in their civil war against the Saudi-backed Yemen government. Tehran maintains that the evidence supplied by the United States and the Saudis purportedly showing that its weapons were used by the Huthis was "fabricated."
Russian UN ambassador Vassily Nebenzia traveled to Washington last month to view the missile fragments and other U.S. evidence, and afterward expressed doubts about Iran's involvement in the missile strikes against Riyadh. Nebenzia said Yemen has been littered with weapons from many conflicts over the years and that he could not determine "anything conclusive."
"I am not an expert to judge," he said.
The opposition from Russia, which has veto power on the Security Council, could sink any U.S. effort to push for further council measures against Iran.
At a meeting of the UN Security Council briefing on the Syrian civil war in Wednesday, U.S. Ambassador to the UN Nikki Haley slammed Iran while defending the Israeli downing of an Iranian drone that penetrated Israeli airspace.
"Iran was once again doing what it does – risking conflict and testing the will of its neighbors and opponents to resist its aggression," Haley said to the UNSC. "Israel rightly took action to defend itself. The United States will always stand by our ally when confronted with provocations from Iran, Hezbollah or the Assad regime."
Haley's remarks refer to an incident last Saturday when an Iranian drone was sent out from a Syrian military base into Israel. In what marked the first armed contact between Israel and Iran and the most significant conflict between Israel and Syria in recent years, an Israeli Air Force (IAF) Apache helicopter shot down the drone inside Israeli airspace and the IAF launched retaliatory strikes in Syria which included knocking out the Iranian-manned base controlling the drone. Heavy anti-aircraft response shot down an Israeli F-16.