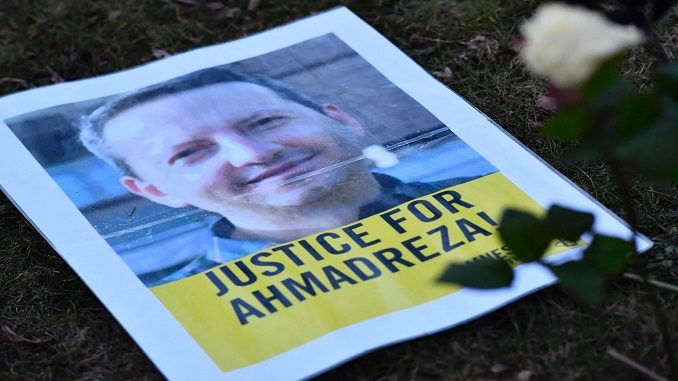 Iran has sentenced to death a person found guilty of providing information to Israel to help assassinate several senior nuclear scientists, Tehran's prosecutor has said as quoted by Sydney Morning Herald.
At least four scientists were killed between 2010 and 2012 in what Tehran said was a program of assassinations aimed at sabotaging its nuclear program. Iran hanged one man in 2012, Majid Jamali Fashi, over the killings, saying he had links to Israel.
Iran arrested Fashi in 2010 days after a WikiLeaks document appeared detailing covert U.S. contact with an Iranian martial arts professional in the Azerbaijani capital of Baku, where Fashi was participating in a kickboxing competition at the time.
On the latest conviction, Tehran prosecutor Abbas Jafari Dolatabadi told the judiciary's news agency:
"The person had several meetings with (Israeli intelligence agency) Mossad and provided them with sensitive information about Iran's military and nuclear sites in return for money and residency in Sweden. One of the crimes of the convict has been disclosing the address and some details of 30 important figures involved in research, military and nuclear projects, including (Iranian nuclear scientists) martyrs Shahriari and Ali-Mohammadi, to Mossad intelligence officers which led to their assassination and martyrdom," Dolatabadi said, according to Iran's semi-official Fars News Agency.
The headline of the report described the convicted person as a "Mossad agent."
The United States has denied Iran's accusation that it was involved in the scientists' deaths, and Israel has a policy of not commenting on such allegations.
Dolatabadi said the convicted person gave Mossad information about 30 nuclear and military scientists including Massoud Ali-Mohammadi who was killed by a remote-controlled bomb attached to a motorcycle outside his home in Tehran.
The judiciary said he was also linked to the assassination of nuclear engineer Majid Shahriari, killed in a bomb attack in November 2010.
Dolatabadi did not identify the defendant on Tuesday, but Amnesty International said Ahmadreza Djalali, an Iranian doctor who studied and taught in Sweden, had been sentenced to death in Iran on espionage charges.
"Ahmadreza Djalali was sentenced to death after a grossly unfair trial that once again exposes not only the Iranian authorities' steadfast commitment to use of the death penalty but their utter contempt for the rule of law. No evidence has ever been presented to show that he is anything other than an academic peacefully pursuing his profession," said Philip Luther, Amnesty International's Research and Advocacy Director for the Middle East and North Africa.
On April 24, 2016, Djalali, who lives in Sweden with his wife and two children, was arrested in Tehran by Intelligence Ministry agents and held for seven months, three of which were in solitary confinement without access to a lawyer in Evin Prison's Ward 209 where he was interrogated.
Sweden and Amnesty International are protesting against a death penalty sentence imposed on Jalali, a Swedish-Iranian scholar and a researcher at Stockholm's Karolinska Institute, who was arrested in Tehran for espionage and "enmity with God" – a crime that in Iran can result in the death penalty – during a visit for a conference.
Jalali has Iranian citizenship but is a permanent resident of Sweden. According to Nature magazine, he works on improving hospitals' emergency responses to armed terrorism and radiological, chemical, and biological threats.
Sweden condemned the sentence and said it had raised the matter with Iranian representatives in Stockholm and Tehran.
"We condemn the use of the death penalty in all its forms. The death penalty is an inhuman, cruel, and irreversible punishment that has no place in modern law," Swedish Foreign Minister Margot Wallstrom said in an e-mailed comment to Reuters.
Amnesty repeated its opposition to the death penalty "without exception" and "in any forms."
"The Iranian authorities must urgently quash the death sentence against Iranian-born Swedish resident and specialist in emergency medicine Ahmadreza Jalali," Amnesty said in a statement on October 23.