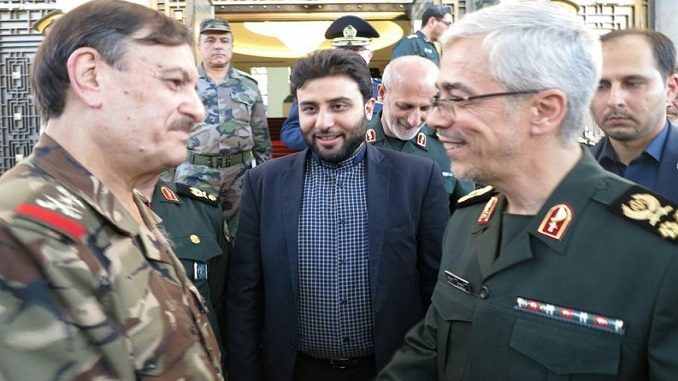 Iran and Syria are developing even closer defense ties as is evident in the recently concluded visit to Damascus by Chief of Staff of the Iranian Armed Forces Major General Mohammad Bagheri, analysts say as quoted by Voice of America.
The two countries signed a memorandum of understanding announcing plans for closer military cooperation and coordination. Major General Bagheri, who was heading a delegation of some senior officers from the Iranian military, also visited the frontlines in the northern province of Aleppo where most Iran-backed forces are stationed.
The visit occurred shortly after Israeli Prime Minister Benjamin Netanyahu warned that he will not tolerate Iranian military presence in neighboring Syria. Analysts say that the timing of the visit signifies the rationale behind this meeting.
"Tehran tries to show that it is not intimidated by threats or having any plan to drop its long-held ambition of implementing an anti-Israel axis in the region," says Babak Taghvaei, a Malta based military analyst.
"We will remain in the resistance axis hand in hand against terrorism. We are proud of the strategic cooperation between Syria and Iran which achieved the greatest victories," said Syrian Defense Minister Fahd Jassem al-Freij during a meeting with the Iranian delegation.
He also stressed on the continuing cooperation to resist "Zionist aggression against nations of the region."
Some experts believe that the ties between Damascus and Tehran have stretched beyond a friendly relationship and entered a new unprecedented phase.
"We have a full scale Iranian involvement in all aspects of the country including military, security and economy level and many Syrian opposition parties call it an Iranian occupation of Syria. Iran found this as a chance to annex Syria to its backyard which includes Iraq and Lebanon," says Dr. Radwan Ziadeh, a Washington-based analyst.
Tehran has been one of Assad's strongest supporters since the country's crisis began in 2011 and has sent thousands of troops including Shi'ite soldiers from its neighboring region to support Assad's regime. Tehran says its forces are in Syria to protect the Zeinab Shrine in Damascus, a Shi'ite holy site.
Tel Aviv, on the other side, sees Iranian presence in Syria as a part of greater threat to its existence. In his meeting last month with the UN Secretary General, Netanyahu accused Iran of turning Syria into a "base of military entrenchment as part of its declared goal to eradicate Israel."
Some analysts say that by signing a comprehensive military deal, Tehran may also be trying to respond to Washington regarding a harsher new policy the United States adapted toward Tehran. On Friday, President Trump announced his new strategy toward Iran, adopting a more aggressive stance on everything from the nuclear deal to Iranian ballistic missiles.
Trump directed the Treasury Department (IRGC) to impose additional sanctions against Iran's Revolutionary Guard Corp. The Treasury designated the IRGC as a supporter of terrorism for its backing of the Quds Force, which conducts operations outside Iran.