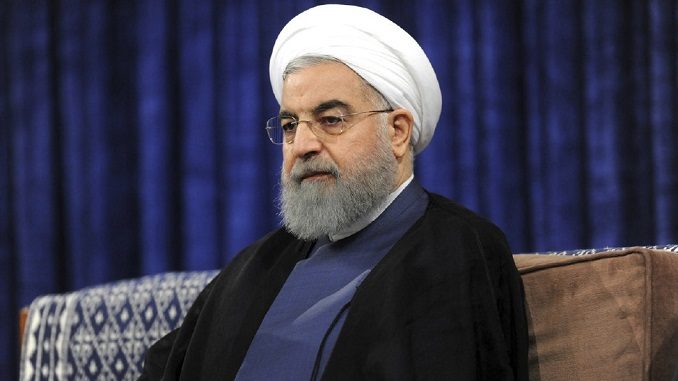 Saudi Arabia should strengthen ties with Iran rather than befriend Israel and maintain an alliance with the United States, according to regime's president, Washington Examiner reports.
"You are mistaken if you think Iran is not your friend, but the U.S. and Israel are. This mentality is a strategic mistake and miscalculation," Iranian President Hassan Rouhani said Wednesday, per state-run media. Iran and Saudi Arabia are traditional rivals in the Middle East, bulwarks of the two leading sects of Islam with competing geopolitical interests.
"The hostility of the Saudis toward Iran was covert in the past, but they are now openly engaged in enmity against Iran," Iranian Parliament Speaker Ali Larijani said last week.
That makes Rouhani's hint at friendship ring hollow, but his remarks give voice to the recognition that alarm over Iran's foreign policy has caused Saudi Arabia and Israel — who do not have formal diplomatic ties — to partner quietly against the threat. Rumors swirled as recently as September that the Saudi Arabian Crown Prince Mohammed bin Salman made a secret visit to Israel, following a series of reports that the two sides have begun sharing intelligence about terrorist threats.
Iran's president has waded into the growing dispute between his country and Saudi Arabia by accusing Riyadh of sowing hostility in Yemen, strengthening Islamic State, and orchestrating the "unprecedented" resignation of the Lebanese prime minister.
Hassan Rouhani's response came a day after the Saudi crown prince, Mohammed bin Salman, accused Iran of "direct military aggression" by supplying missiles to Houthi rebels in Yemen. Tehran ferociously denied the charge.
"Why are you showing hostility towards the people of Syria and Iraq? Why are you strengthening Isis and leaving the peoples of the region with them? Why are you interfering with Lebanon's internal affairs and governance?" Rouhani said, referring to the resignation on Saturday of Saad Hariri, Lebanon's prime minister, who unexpectedly stepped down as prime minister while he was visiting Saudi Arabia.
The Iranian president said Riyadh was not in a position to threaten Iran, saying that "those bigger than you have not been able to do anything against the Iranian nation." Iran has formally protested to the UN security council about the Saudi accusations over the missile launch and threats to retaliate militarily, saying they were based on "unfounded assumptions."
It said the claims were an attempt to "shift the blame and to distract attention from [Saudi's] war of aggression against Yemen" and that Riyadh was "committing war crimes" by striking the Arab world's poorest nation and also imposing a blockade on aid access to the famine-stricken country. He said Saudis were behind "blind attacks and murdering of Yemeni innocent people."
He also boasted Donald Trump had 'mobilized all their allies and achieved nothing' in a barb at the U.S. "The United States and their allies have mobilised all their capabilities against us and achieved nothing."
Rouhani appeared to be alluding to the Iran-Iraq war of 1980-88, in which revolutionary Iran successfully resisted an invasion by Saddam Hussein's regime supported by Gulf Arab and Western governments. The bizarre circumstances surrounding Hariri's resignation left Lebanese politicians grappling to find a way out of a political deadlock.
The president has yet to officially accept the resignation amid calls for Hariri to return to Lebanon. In his speech, Hariri said he feared for his life, but security officials have said they had no indication there were threats against the prime minister. In his absence, Lebanon was awash with speculation the 47-year-old prime minister may be held against his will in Saudi Arabia as Riyadh seeks to impose its rivalry with Tehran on Lebanon. Saudi officials denied Hariri was under house arrest. On Tuesday, Hariri traveled to the United Arab Emirates, another critic of Iran, in an apparent attempt to dispel claims of his detention.