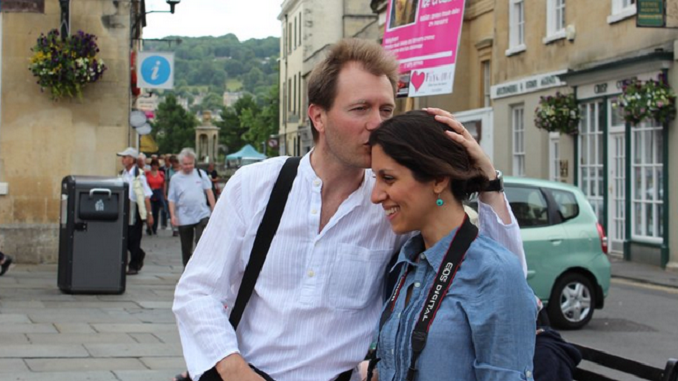 Iran has told jailed Iranian-British aid worker Nazanin Zaghari-Ratcliffe that she will appear in court next month accused of spreading propaganda, her husband, Richard, said on Thursday as quoted by Reuters.
"She's been told she will appear in court on Dec. 10," he told Reuters.
He said that he understood she would appear in court charged with spreading propaganda. Nazanin Zaghari-Ratcliffe, a project manager with the Thomson Reuters Foundation, was sentenced to five years in prison after being convicted by an Iranian court of plotting to overthrow the clerical establishment. She denies the charges.
Zaghari-Ratcliffe's fate become a major political issue in Britain after Foreign Secretary Boris Johnson made remarks on November 1 that appeared to cast doubt on statements from her employer about what she had been doing in Iran.
The Thomson Reuters Foundation, a charity organization that is independent of Thomson Reuters and operates independently of Reuters News, said she had been on holiday. Johnson told a parliamentary committee he understood she had been teaching people journalism before her arrest in April 2016. He later apologized for his remarks. The Thomson Reuters Foundation said she had not been training journalists in Iran.
Iranian state television has said Johnson's comments showed Zaghari-Ratcliffe's guilt and that she was involved in spying.
It has been 600 days since British Iranian dual national Nazanin Zaghari-Ratcliffe was separated from her baby daughter Gabriella and thrown in prison whilst visiting her family in Iran on what can only be described as a Kafkaesque nightmare of fabricated espionage charges.
Public support has grown for 37-year-old Nazanin. But inevitably, so has the criticism. Browse any social media thread about her – and there are hundreds – or news articles online and you will find a highly polarized audience commenting.
Some relay their sympathies and beg the British Government to get her home. The others issue acerbic remarks. "When you go on 'holiday' to one of the most dangerous countries in the world, what do you expect? Serves her right." Others question why anybody would even want to go to in Iran in the first place.
The people of Iran have been terrorized for decades. Their bond with their families is all they have left. And with each new generation of Iranians born, be it inside or outside Iran, that bond remains. If anything it is just as strong, no matter how far the genetic or physical distance.