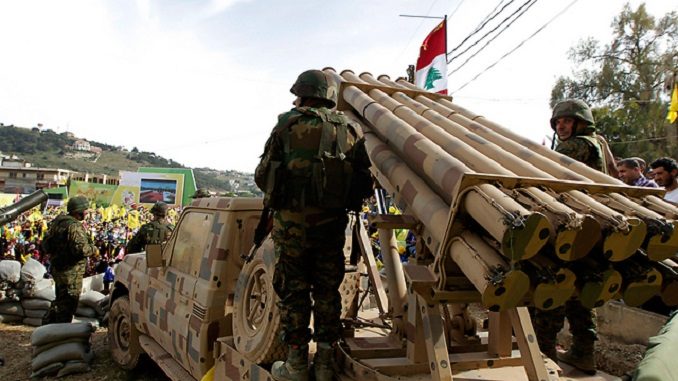 Iran continues to outfit the Hezbollah terrorist group with more accurate missiles, a new series of precision missiles called Raed, for a future war with Israel, which may dramatically affect the nature of such a conflict, according to Israeli military assessments released Wednesday.
It is believed that Iran will continue with its efforts to establish a presence in Syria through proxies, with which it can support Hezbollah and potentially open a second Syrian front against Israel, Times of Israel reports. Currently, Tehran has just 1,500 of its own Iranian Revolutionary Guards in Syria. However, the IDF believes that the Islamic Republic also controls over 10,000 fighters from Shiite militias. Hezbollah also has several thousand troops in the country, assisting Syrian dictator Bashar al-Assad in his war against rebel groups.
Meanwhile, Hezbollah is currently believed to possess approximately 120,000 missiles and rockets in Lebanon. In a future war, the IDF estimates that the Iran-backed group will launch over a thousand rockets a day at Israel.
But as Iran is providing Hezbollah with the missiles themselves and the ability to produce them independently, with factories in Lebanon, the fear is that the group will have more and more accurate missiles aimed at strategic sites in Israel.
If it were in possession of superior missiles, Hezbollah would not wage the same type of war as it did in the Second Lebanon War. Notably, more accurate missiles would allow the terrorist group to launch a quick, focused attack on Israel, unlike the prolonged 2006 conflict, the assessment said.
Meanwhile, an intelligence report recently released by the Israeli defense establishment reveals Iran's newest missile developments and its plans for Syria. The report adds that Hamas and Hezbollah's focus and perspective is changing, likely in preparation for war. It revealed that Iran is delivering about 10 supply planes to Syria and Hezbollah every month. Israel also believes that Iran wants to establish a permanent military division in Syria that will bring together all the elements and organizations already serving there.
Hezbollah is already changing its perspective: it wants to move towards a short and intensive war and is very concerned about an Israeli ground maneuver in Lebanon. Hamas in the Gaza Strip is currently investing most of its efforts in digging tunnels inside the Gaza Strip and not necessarily on tunnels passing under the fence, a measure of preparation in case the IDF operates inside the Gaza Strip.