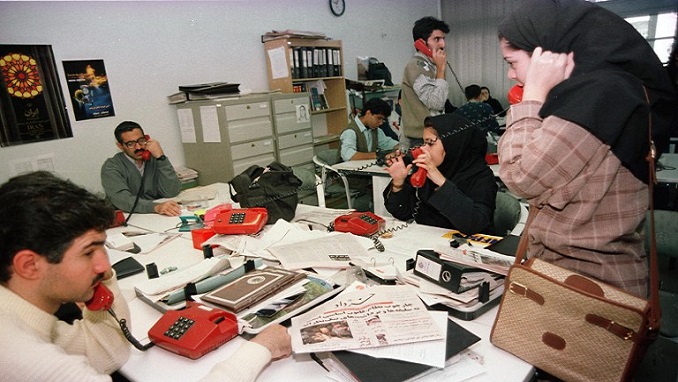 Reporters Without Borders (RSF) condemns attempts by the Iranian judicial system and intelligence services to influence the Persian-language sections of international media outlets by putting pressure on Iranian journalists based abroad and on their families still in Iran.
How do the Iranian intelligence services pressure Iranian journalists who are working abroad? BBC World Service director Francesca Unsworth shed some light on this when she reported on 15 August that the assets of more than 150 BBC Persian staff, former staff and contributors have been frozen in Iran, preventing them from conducting financial transactions there.
This is one of the many methods the Iranian authorities use since the Islamic Revolution in 1979. However, since Hassan Rouhani became president in 2013, the regime has limited its use of direct harassment in favor of more subtle threats.
Nowadays, the families of the foreign-based journalists are "politely" summoned to interviews with the intelligence officials but the message is still the same: the journalists must "stop collaborating with enemy media" without delay.
In the past year, RSF has found about ten families of journalists who have been called to such interviews, usually with the intelligence ministry agents. At least 50 journalists based in foreign countries have been threatened in some way in the same period. At least 16 of them have received death threats.
It is not just the BBC Persian employees who are the target. All international media outlets who cover stories in the Persian-language are concerned, regardless of the country the media outlets are based in. Journalists from the Radio Farda (Radio Free Europe's Persian-language section), with such state-funded broadcasters as Voice of America, Deutsche Welle and Radio France Internationale, and privately-owned broadcasters such as Manoto TV and Radio Zamaneh have also been threatened by the Iran's intelligence services or the judicial system.
The pressure is pretty much intimidating that most of the journalists and media representatives who were reached by the RSF asked not to be identified. A few did however agree to be named.
The threats are often explicit. Fahimeh Khezr Heidari, a presenter of one Radio Farda programme called Taboo that covers "funny stories and ethnic jokes," often receives threats aimed at getting her to stop the programme. In mid-February, she found the following message posted in the comments section: "Ms. Khezr Heidari, Monday will be a horrible day for a member of your family because you did not take our last warning seriously. Thank you, my corrupt sister."
The editor in chief of Radio Zamaneh, Mohammadreza Nikfar said most of his journalists are often the targets of phishing attempts, in which people may be tricked into letting others take over their online identities. But he gave examples of other forms of harassment as well.
"The family of one of our journalists was summoned by intelligence ministry agents," he said. "After showing articles by him that had been posted on our website, they said: 'Tell him to stop collaborating with Radio Zamaneh.' Another journalist, a former prisoner of conscience, has been threatened several times by telephone. They tell him his family will suffer the consequences if he does not return to Iran."
Since 2012, at least five journalists have been arrested after they returned to Iran and have been given sentences ranging from three to twelve years in prison.
The pressure is real but it is hard to gauge its effectiveness and its impact on the attitude of the journalists concerned and their reporting. But it does have an impact, according to a former journalist with an international media outlet that has a section in the Persian-language, who also asked not to be identified.
"When your father calls and an intelligence ministry agent takes the phone and says, 'your father is here and we're talking about you,' and you know that your family is being harassed and is in danger of being arrested, how can your write freely?" he asked. "After members of my family had been summoned for questioning, I could no longer work as I had before."
Radio Farda's Mostofi insists that the station's raison d'être is "not giving in to pressure and resisting self-censorship." He said that he warns the journalists about the threats they face and tells them they don't have to continue. "But 99% of the time, the journalists are determined, and decide to continue their work."
Harassment of families is a constant threat, even if it is evolving, as the editor in chief of an international media's Persian-language section explained.
"The pressure on families has declined this year in Tehran but has increased in the provinces," he said. "The only difference is that the interviews are now more courteous. The agents address families politely. But even if courteous, they still represent a threat."
Many journalists who are living abroad are exposed to the possibility of being prosecuted on a charge of "collaborating with enemy media" or espionage and of being given a long jail sentence, which prevents them from returning to Iran.
Spouses often are face with problems when visiting Iran. Many have had their passports confiscated on arrival and, to recover them, they have had to go to the intelligence ministry, where they are typically questioned about their partner's work, their relationship and sometimes their private life.
Parents who want to visit their foreign-based offspring have similar difficulties. When they obtain permission to travel, they are subjected to extensive interrogation on their return.
"While staying with me, a member of my family was instructed to take photos of my house, my street and, if possible, my workplace and my colleagues," a London-based Iranian journalist said. Another said: "I've had to stop writing under my real name ever since my wife was arrested during a trip to Iran."
The regime also harasses the sources in Iran that are used by the international media, so that they are denied access to information. Such sources include Mehdi Khazali, the editor of the blog Baran, who was arrested by plainclothesmen in Tehran on 12 August.
Tehran prosecutor Abass Jafari Dolatabadi announced on 28 August: "Using a woman as an intermediary, Mehdi Khazali sent false information about the government to counter-revolutionary websites based abroad and to VOA."
In recent months, Khazali had openly criticized the head of the judicial authority, Sadegh Amoli Larijani, in interviews for VOA and DorTV. His family said he began a hunger strike on his first day in detention. In 2011, he was given a 14-year jail sentence.
Amadnews, a website that often publishes confidential information about corruption involving government officials, has become one of the leading targets of the government's attacks and threats in the past two years.
The website's founder, Roholah Zam, the son of a reformist official, currently lives in France but his family in Iran has been subjected to the most appalling persecution. Two of his sisters and his brother-in-law were detained for four months last year, and his youngest brother, Mohamad Milad Zam, was arrested at home on 26 August and was taken to an unknown location.
Amadnews editor Sam Mahmoudi Sarabi and some of the site's contributors were threatened repeatedly in late August. A single tweet announcing a story about Supreme Leader Ali Khamenei recently elicited death threats against him. In the past six months, ten journalists have been arrested in Iran by the justice system's intelligence service for allegedly collaborating with the site.
Iran is ranked 165th out of 180 countries in RSF's 2017 World Press Freedom Index.