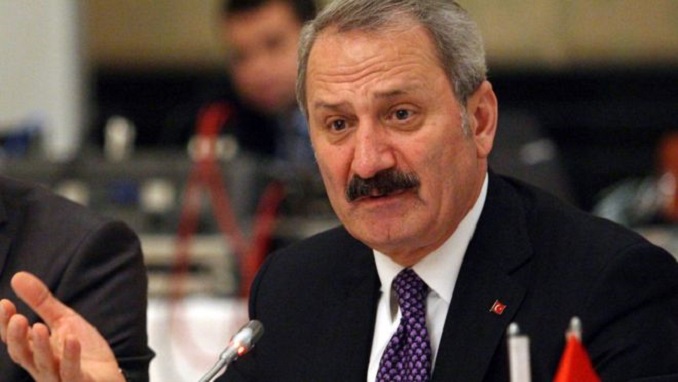 Turkey's economy minister on September 7 dismissed a case brought by U.S. prosecutors against his predecessor for allegedly taking bribes and helping Iran violate U.S. sanctions law, Radio Free Europe reports.
Zafer Caglayan, the former Turkish economy minister named in a U.S. indictment on September 6, was the highest-ranking of several former officials in the government of Turkish President Recep Tayyip Erdogan who U.S. prosecutors accused of being involved in a conspiracy to help Iran violate prohibitions against using the U.S. financial system.
"Caglayan did not do anything against Turkey's interests," current Economy Minister Nihat Zeybekci told reporters in Istanbul. "It is no concern to Turkey if Caglayan acted against interests of other countries."
The indictment accuses Caglayan and several associates of lying to U.S. investigators and taking tens of millions of dollars in bribes in jewelry and cash, in addition to violating U.S. sanctions law.
"There are claims that these sanctions are violated, but the claimants are obliged to prove these claims," Zeybekci said.
Halkbank, a Turkish state-owned bank allegedly used by the defendants to circumvent the Iran sanctions, issued a statement denying wrongdoing on September 7.
U.S. prosecutors have said that between 2010 and 2015, the defendants used the bank to conceal the illegal supply of currency and gold to Iran.
To avoid U.S. sanctions, prosecutors said the defendants used front companies and fake invoices to trick U.S. banks into processing transactions disguised to appear as though they involved food sales, which are exempt from the sanctions.
Halkbank executive Mehmet Hakan Atilla is under arrest in the United States and set to go on trial on October 30, along with Reza Zarrab, a wealthy Turkish-Iranian businessman who prosecutors say masterminded the laundering scheme.
Caglayan and several other named Turkish defendants remain at large.
Zarrab, an Iranian by birth, was previously involved in a Turkish government scandal in 2013 when he was briefly arrested as part of a corruption probe that also involved top government officials. The charges against Zarrab in Turkey were later dropped.
Erdogan has said U.S. authorities had "ulterior motives" for arresting Zarrab and personally pleaded for Zarrab's release in a recent meeting at the White House.
Zarrab's attorneys say they have approached both the Turkish and U.S. governments to try to reach a diplomatic and political settlement of the case.