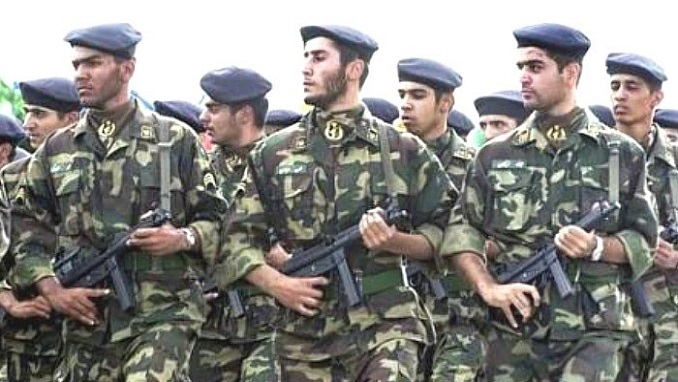 The U.S. military is keeping a wary eye on Iran's regime most violent proxy militia in Iraq, which has vowed to start killing Americans again once the Islamic State is expelled, The Washington Times reports.
With the Islamic State's defeat in Iraq coming closer — the U.S. estimates that the once 25,000-strong terrorist group is down to a few thousand followers at most holding only pockets of resistance — the danger from the Hezbollah Brigades is fast approaching.
A commander in the Shi'ite battalion, also known as Kata'ib Hezbollah (KH) and the largest and most ruthless Iranian-trained militia fighting in Iraq and Syria, warned Americans on Sunday that they must leave Iraq or face a new war, Iran's Fars News Agency reported.
Said the Fars headline, "Iraqi Popular Forces Warn to Target US Forces after Defeating ISIL Terrorists."
Spokesman Jafar al-Hosseini issued a similar threat in March. His scripted messages on Beirut's al-Mayadeen Arab-language TV station suggest the militia is not bluffing and is preparing for that day.
A military official told The Washington Times that the U.S. has plans to counter KH if it begins attacking Americans.
"Regarding the sense of Iranian malign influence, we're trying alert NATO, the coalition, the State Department, the U.N. and the Gulf countries," the military official said. "It's a really big question. We're very aware of it. We're watching the move to post-ISIS. What the Iranians are saying is of significant concern."
The Hezbollah Brigades of 5,000 fighters already has American blood on its hands.
The Iranian Regime organized the group in 2007 via its Quds Force, an arm of the Islamic Revolutionary Guard Corps, to target the American troops in Iraq.
Quds operatives schooled the Shi'ites in building improvised explosive devices and rocket systems that ultimately killed about 500 U.S. personnel, the Pentagon reported.
Analysts say that Iran's higher goal is not just to defeat the Salafist Sunni Islamic State in Iraq but also to spread a crescent of the Shi'ite hegemony across Iraq, Syria, and Lebanon. The regime also finances and equips the powerful Lebanese Hezbollah.
The 2015 nuclear accord with the Obama administration provided Iran's regime with billions of dollars to increase the terrorist Islamic Revolutionary Guard Corps budget and pay various militias, according to the National Council of Resistance of Iran.