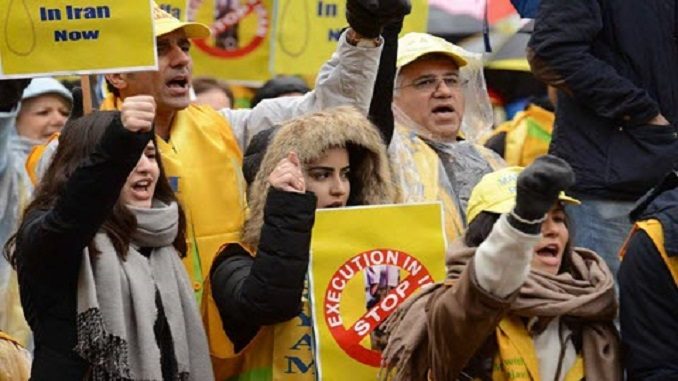 Iranian activists condemned the executions committed the Iranian regime by holding a demonstration and rally in front of the Swedish parliament in Stockholm on October 10, the International Day against the Death Penalty, in the presence of political figures and human rights defenders.
While pointing to the Iranian regime's criminal record as the world's leading record in executions, they also expressed their support for the Justice-seeking Movement for the victims of 1988 massacre in Iran and prosecution of perpetrators of the Crimes against Humanity, the National Council of Resistance in Iran reports.
The speakers at the gathering expressed their support for the formation of an international investigation committee on the massacre of 30,000 political prisoners in 1988, by the order of Khomeini and the prosecution of the perpetrators of the crime.
Tahar Boumedra, the joint head of the Justice Organization for the Victims of 1988 Massacre in Iran, emphasized in his speech that the audit of the perpetrators of the crime would not be possible without the establishment of an independent fact finding Committee capable of holding the regime accountable internationally.
Ambassador Andrea Budkol, deputy director and planning director of the Amnesty International in the country, said that the situation in Iran in terms of violation of human rights is still very serious.
"We have held many demonstrations with the same content to stop the death penalty in Iran. The actual number of executions is much more than what is officially announced. Because many executions are carried out secretly. A large number of opponents of the Iranian regime are also executed as "ordinary criminals."
Eric Walbery, a human rights lawyer pointing out the growing number of executions during the Rouhani era, said: "Iran (Iran's regime) has a capital punishment more than any other (government) in the world in proportion to the country's population."
Representative of Khebat Organization of Iranian Kurdistan participated in the demonstration and while condemning the wave of executions by the regime, expressed his solidarity with the justice-seeking movement for victims of 1988 massacre.
At Stockholm rally, some of the young supporters of the resistance performed some art show. At the end of the rally, the participants marched in front of the Swedish parliament.