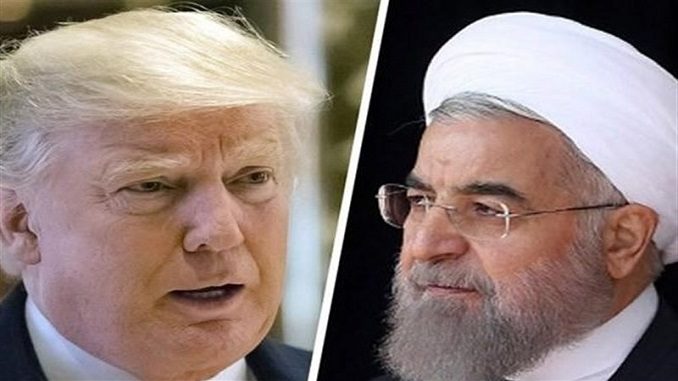 The White House on Monday denied the Iranian government's claim that President Donald Trump asked to meet with his counterpart from the Islamic republic last month but was turned down, NBC News reports.
White House spokeswoman Sarah Huckabee Sanders told NBC News in a brief email early Monday that this statement was "false."
According to Iran's semi-official Fars news agency, Trump requested for face-to-face talks with Iranian President Hassan Rouhani after giving a speech to the United Nations condemning Iran as a "murderous regime" focused on the "pursuit of death and destruction."
"U.S. President Trump has invited President Rouhani to a face-to-face meeting during Rouhani's visit to New York to participate in the UN annual conference in September but our president has turned down the offer," Mahdi Faza'eli wrote on Sunday, noting that the demand was raised one day after Trump's insulting speech against Iran at the UN.
Hours after initial FNA report on Sunday, Iranian Foreign Ministry Spokesman Bahram Qassemi confirmed Faza'eli's revelation, saying that "this willingness (to meet President Rouhani) was expressed by the American side, but was rejected by the Islamic Republic of Iran's president."
Bahram Ghassemi, a spokesman for Iran's foreign ministry, told a press conference Sunday that the report carried by Tasnim News earlier in the day was correct.
"Indeed a request was made by the American side but it was not accepted by President Rouhani," Ghassemi said.
According to Newsweek,  the story may be an attempt to make the Iranian leadership appear tough on Trump to its domestic audience. Religious hardliners in Iran have viciously attacked Rouhani and Iranian Foreign Minister Javad Zarif for supporting the Iran nuclear deal, which scraped international sanctions on Iran in exchange for curbs on its nuclear weapons program.
The story about Trump's attempt to meet with Rouhani was likely made up to bolster Rouhani's image as the Trump administration takes a harder line on Iran and works to dismantle the Iran deal, experts say.
"Circulating this rumor makes Rouhani look good in the context of Iranian politics. The Trump administration is incoherent on many levels, but it wouldn't make sense after playing hardball with Iran that they would reach out. Rouhani stands to benefit from this. If Iran is so certain that Trump asked for this meeting then they should produce the email or the evidence," Nader Hashemi, director of the Center for Middle East Studies, told Newsweek.
Iran may also be spreading the rumor about the meeting to capitalize on the fact that the other signatories of the Iran deal disagree with Trump's hardline stance on Iran, said Ali Nader, a Middle East expert with the Rand Corporation.
"The Iranian government is using [the rumor] for propaganda purposes by portraying itself as having leverage over the U.S. on the nuclear issue, especially as Washington seems isolated after having decertified Iran despite opposition from the agreement's other signatories," Nader said.
In 2013, President Barack Obama and Rouhani spoke by telephone, the highest-level contact between the two countries in decades, prompting an outcry from Iranian hardliners. Since then there has been no such communication between the heads of state in Tehran and Washington, which officially severed diplomatic ties in 1979.
In the meantime, Iran says talks with the United States are unlikely without a "fundamental change" in American behavior, NBC News reports. Foreign Ministry spokesman Bahram Ghasemi told reporters Monday that any future negotiations were unlikely "considering the policies taken by (President Donald) Trump."
Trump has declined to certify the Iran nuclear deal, which lifted sanctions in exchange for the country curbing its nuclear program. This puts its future in the hands of Congress, which will now have to decide whether to attach new conditions or reimpose sanctions with regard to the country's nuclear program.
The Iranian president criticized the U.S. over Trump's refusal to formally certify that Tehran is complying with the 2015 accord on Iran's nuclear program, even though international inspectors say it is.
"You are disregarding past negotiations and agreements approved by the UN Security Council and expect others to negotiate with you? Because of the behavior it has adopted, America should forget any future talks and agreement with other countries," Rouhani said in an apparent reference to North Korea.
Rouhani slammed Washington for failing to live up to its obligations under the 2015 nuclear deal, known as the Joint Comprehensive Plan of Action (JCPOA), describing any call by the U.S. for renegotiating the agreement as "ridiculous".