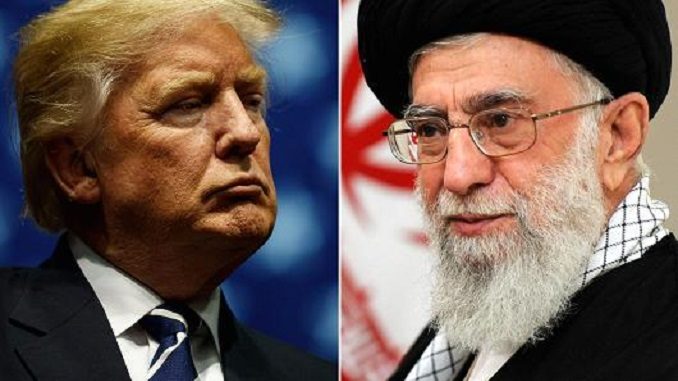 Ayatollah Ali Khamenei, Leader of the Islamic Revolution, said on Wednesday that it is a "waste of time" to respond to the speech against Iran by U.S. President Donald Trump, Tehran Times reports.
"I do not want to spend time to answer the foul-mouthed president of the U.S. It is a waste of time that one wants to respond to him," Khamenei told a number of students.
In a speech on Friday when announcing his new Iran strategy, Trump used a harsh and insulting language against Iran and leveled many charges against the Islamic Republic, especially against the Islamic Revolution Guards Corps (IRGC).
Ayatollah Khamenei said one should not expect Trump not to be angry with the IRGC which has stood against Daesh which itself is being created by the United States.
"As the servant of international Zionism the U.S. is the creator of Daesh and the Takfiri current, and then you expect that it would not be angry with a force (IRGC) which has stood against Daesh," Khamenei noted.
Khamenei said Tehran would stick to its 2015 nuclear deal with world powers as long as the other signatories respected it, but would "shred it" if the U.S. pulled out.
"Trump's stupidity should not distract us from America's deceitfulness…If the U.S. tears up the deal, we will shred it."
Iran's supreme leader also said Europe should do more to back the nuclear deal after U.S. President Donald Trump refused to re-certify the pact. Khamenei said in comments posted on his official website Wednesday that "European governments have underlined the nuclear deal's issue and condemned the U.S. president's remarks. We welcome this approach but it's not enough that they only tell him not to tear up the deal."
Khamenei also said Iran was determined to continue its disputed ballistic missile program despite the pressure from Europe and the United States to suspend it. Tehran has said it is developing missiles solely for defensive purposes.
"They must avoid interfering in our defense program. They (Europeans) ask why does Iran have missiles? Why do you have missiles yourselves? Why do you have nuclear weapons? We do not think it is acceptable for the Europeans to join America in its bullying, " Khamenei said.
Iran has one of the biggest ballistic missile programmes in the Middle East, viewing it as an essential precautionary defense against the United States and other adversaries, primarily Gulf Arab states and Israel.
"Americans are angry because the Islamic Republic of Iran has managed to thwart their plots in Lebanon, Syria, Iraq and other countries in the region," Khamenei said.
The 2015 deal curbed Tehran's nuclear program in exchange for lifting international sanctions on Iran. This allowed European companies to start signing deals with Iran.